First Time Home Buyer Washington State Loan Programs
Posted by Tony Mariotti on Wednesday, July 5, 2017 at 1:20 PM
By Tony Mariotti / July 5, 2017
Comment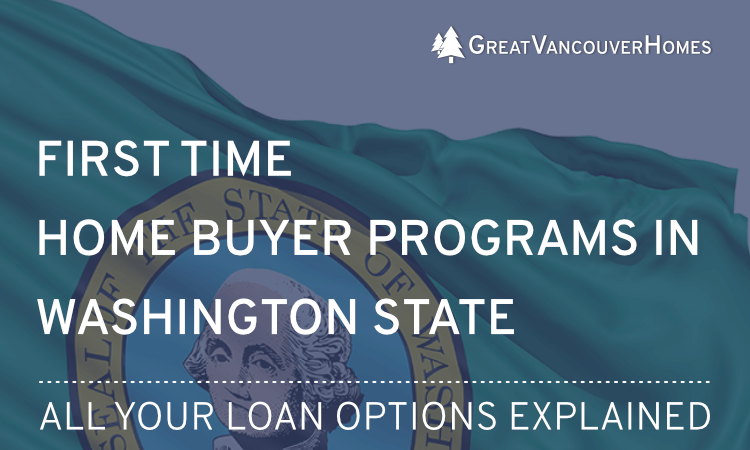 Washington State First Time Homebuyer Programs
The Washington State Housing Finance Commission (WSHFC) offers low-interest mortgage programs, down payment assistance and homebuyer education courses. WSHFC was established in 1983 to help Washington first time home buyers. WSHFC doesn't lend money to people nor does it run its operations from taxpayer money. Private lenders make the loans and the Commission is entirely self-sustaining.
If you want to take advantage of first time home buyer programs in Washington State, here are the basic steps:
Education: All borrowers must first attend a free homebuyer education seminar. Seminars cover the steps of the home buying process.
Loan Pre-Approval: After participating in the seminar, a lender can pre-approve you for a loan. The pre-approval will guide your decision process for selecting a home; you'll know what mortgage program you'll use and how much home you can afford. Both will make home shopping more efficient and hassle-free.
Shop for Home: Once pre-approved, it's time to shop for a home. When you find one you like, a Realtor can help you structure a deal and make and offer.
That's the high-level overview of what it takes to get a new house in Washington State.
What follows in the rest of this article is a focus on first time home buyer mortgage and downpayment assistance programs in Washington.
Education Requirement
As mentioned, all of the Washington State home buyer programs require borrowers to attend a free Home Buyer Education (HBED) Seminar. The seminar is not a sales pitch, rather it's purely an educational course taught by volunteers. In fact it's pretty interesting and only takes 5 hours of your time. You'll learn about the home buying process and the role of lenders and real estate agents.
Who must attend? All parties who will sign the Deed of Trust must attend. When it's finished, each attendee gets a certificate, good for two years. This is mandatory for all programs (mortgage and down payment assistance).
Seminars are free and available in English and Spanish. They are offered in several cities all over the state. There's also an option to take the course online. The online course option costs $50 and registration is available at eHome America's site.
Mortgage Loan Programs
Home Advantage First Mortgage Program
Home Advantage is a first mortgage program, but that doesn't mean it's for first-time buyers. In this case "first" refers to the lien position, or how loans fit together when there's more than one taken out on a property.
The Home Advantage program helps borrowers qualify for a larger mortgage and finance up to 97% of the home's appraised value or purchase price (whichever is less). WSHFC sets below-market interest rates. Underwriting criteria is flexible and one could even say quite accommodating.
Borrower Eligibility
Income must not exceed current WSHFC limits ($145,000)
Does not have to be a first-time homebuyer
Credit score must meet current requirements (620 minimum)
No 30-day late payments
Debt to income ratio (DTI) must meet current requirements (45%)
Must occupy the property within 60 days of loan closing it must be the borrower's primary residence (i.e. cannot be rented out home or second home)
Co-signors are allowed
Property Requirements
Only for single-family residences in Washington State
Must be a single-family home, town home, condo and in some cases a manufactured home
Property must comply with FHA, VA, Fannie Mae or USDA Rural Development guidelines
Appraisals must also comply with FHA, VA, Fannie Mae or USDA Rural Development
All properties must undergo an inspection
Energy Spark Home Loan
Utility bills are less often discussed cost of home ownership. But you can lower your monthly utility expenses with an energy efficient home.
Energy Spark is a Washington State loan program that offers incentives to borrowers to buy new, energy efficient homes or to fix older homes. It's an optional, add-on benefit to the Home Advantage First Mortgage program outlined above. When used, it provides a 0.25 % interest rate reduction on a 30-year fixed mortgage.
Property Requirements
A new home that exceeds Washington State building standards by at least 15%, without further energy improvements.
Certification provided by the home builder.
Or...
An older home that can be upgraded for 10% energy savings over its current use.
As determined by pre and post energy audit (audits cost $300 - 600) of the home.
Benefits
Lower mortgage interest rate
Lower monthly mortgage payment
Lower monthly energy bills
House Key Opportunity First Mortgage Program
House Key is the WSHFC's "state bond" program. Money is raised by the State of Washington through the sale of tax-exempt bonds to investors. Then the proceeds are used to create below-market-rate mortgage loans.
This is Washington's first-time home buyer program. It's designed to help low and moderate-income households with their purchase. Like the Home Advantage program above, House Key helps borrowers qualify for a larger mortgage through flexible underwriting standards.
Borrower and Property Eligibility
Eligibility and requirements are pretty similar to the Home Advantage program. For the most part, things like debt to income ratios, credit scores, etc. remain the same. There are really only a few slight variations, most notably:
Borrowers must be a first time home buyer (not owned and occupied a primary residence within the past three years).
Income limits and loan limits are a little lower than other programs. They change from time to time and depend on the where the house site (by county and area). The limits change from time to time and can be found on WSHFC's site.
Down Payment Assistance Programs
The mortgage programs we outlined above must be in a first lien position. Then things like a second mortgages or Home Equity Lines (HELs) can be added to them.
For example, the Home Advantage First Mortgage Program can be combined with Home Advantage Down Payment Assistance Program which finances the down payment and closing costs. The two loans can essentially be stacked on top of one another. Think of them as interlocking Legos.
Here's a "visual" example. On the bottom, there's a first lien position mortgage, typically 97% of the loan amount. On top of that is another block, a second lien position loan, typically 3% of the remaining loan amount. When used together, borrowers can finance 100% of the loan (also known as a "zero down" loan).
So why did we explain all that? Because all Washington State down payment assistance programs (DPAs) are second position loans.
More Common DPA Characteristics
Must be used in conjunction with WSHFC first (lien position) mortgage programs
They are smaller, second position loans
Most have deferred payments for 30 years
DPAs cannot be combined (you can't use more than one of them)
Funds must be used for the down payment, closing costs and pre-paid items (you can't cash out).
Deferred Payment Explained
So what exactly is a deferred payment? It means you won't have to make payments on the second mortgage until the home is:
Sold
Transferred
Refinanced
No longer occupied
Or the loan reached the end of its term (after 30 years)
Home Advantage DPA
The borrower and the property are first deemed eligible and approved for a Home Advantage First Mortgage. When eligible for the mortgage, said borrowers are automatically eligible for the Home Advantage DPA.
It carries a 0% interest rate (yep, that's a zero)
Loan up to 4% of first mortgage (first lien) amount
House Key Opportunity DPA
House Key Opportunity DPA combines with the House Key Opportunity First Mortgage program. It's also a second mortgage.
1% interest rate
Up to $10,000 loan amount based on borrower need
For first-time home buyers (or buying in a targeted area)
Home Choice DPA
Home Choice is for borrowers with a disability. Borrowers with no disability -- but have a family member who has a disability and lives with them -- are also eligible.
1% interest rate
Up to $15,000
For first-time home buyers (or buying in a targeted area)
House Key Veterans DPA
This program is for qualified Washington State veterans who've served our country. Here are the borrower requirements:
Received an honorable discharge
Received a discharge for medical reasons with an honorable record
Members of the Washington National Guard and Reserve
Honorably discharged former members of the Washington National Guard and Reserve
Never remarried spouses and dependent children of deceased Veterans
There are a few more differences from other DPAs; the loan term is shorter and it is not a deferred payment structure. Here's the rundown:
3.00% interest rate

Up to $10,000
For first-time home buyers (or buying in a targeted area)
10-year loan term
Regional Down Payment Assistance Programs
Some cites and counties also have DPAs worth investigating.
Bremerton - up to $20,000 for people buying within the Bremerton city limits
Seattle - up to $45,000 for buyers living within the city limits of Seattle
East King County - up to $30,000 for buyers within an ARCH member city or area
Bellingham - up to $40,000 for people buying within the City of Bellingham limits
Tacoma - up to $20,000 for buyers within the eligible city limits of Tacoma
Pierce County - up to $20,000 for people buying within the Pierce County limits
Tax Relief Program
Mortgage Credit Certificate (MCC) Program
The MCC is not a home loan, it's a tax credit that increases your monthly income by with holding fewer taxes from your paycheck each month. This tax relief can help revise your qualifying income a bit higher, therefore increasing the total loan amount you may be eligible to get.
You are strongly advised to talk to an accountant who can punch up some numbers on a calculator to figure out if the MCC program works to your advantage.
SUMMARY
There are two main mortgage programs offered by the State of Washington (Home Advantage and House Key Opportunity) and one loan "add-on" that encourage energy-efficient homes, the Energy Spark Loan. There are are state-wide down payment assistance programs that help cover mortgage loan closing costs. And some cities and counties have their own hyper-local DPAs as well.