7 Steps of the Home Buying Process
Posted by Tony Mariotti on Saturday, October 6, 2018 at 2:44 PM
By Tony Mariotti / October 6, 2018
Comment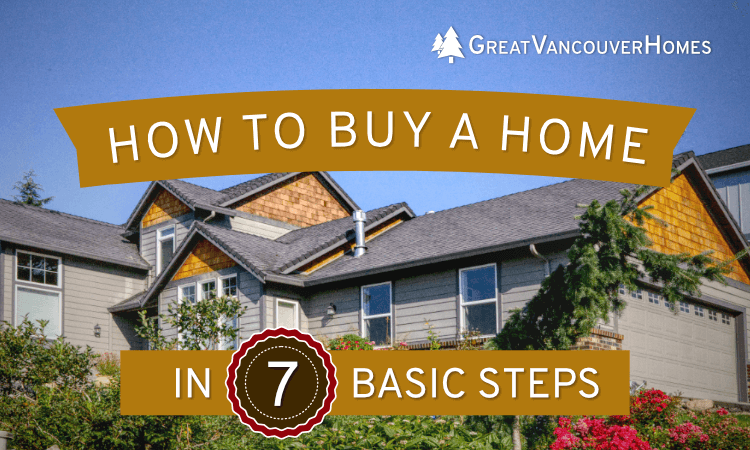 There are seven steps in the home buying process. Each part of stage of the timeline consists of several activities and paperwork. It doesn't matter whether this is your first time buying a home or you've done it before; the steps are pretty much the same. If you're a "move up" buyer who's done this before, the process below should look familiar - this article is a simple refresher course: a step-by-step guide so that you know what to expect.
If you are a first time home buyer, you can expect lots of paperwork. That's one of the things that surprises people the most. Another thing that comes as a surprise is the amount of time required to close a deal. The escrow period lasts 30 days on average (getting the appraisal, inspection, etc.) So, if you're trying to figure out how long it takes to buy a home, just add the amount of time you think you'll take to shop until you find a home you love and then add 30 days of escrow to it.

Step 1: Check Your Credit
What is a FICO Credit Score and How Do I Check It?
The Fair Isaac Company created a "predictive analytics" program that helps lenders predict future consumer behavior based on previous credit behavior. The resulting numerical score is called a FICO score (the acronym is shorthand for the company's name).
FICO scores include credit payment history, the current outstanding debts, the age credit history, new credit and inquiries, and types of credit used. There are many online sources where you can receive free credit reports. However, Annual Credit Report is authorized by federal law to make sure that it is a truly free report.
Through the website, consumers can receive a credit report every 12 months from three consumer credit reporting companies: Equifax, Experian, and TransUnion. Each company measures credit scores slightly different, but Annual Credit Report averages the three scores out to give you your summary credit score.
Is My Credit Score Good or Bad?
According to FHA guidelines, the lowest credit score to a homebuyer needs to purchase a home is 580. However, most lenders require at least a score of 620.
As you might already guess, the higher your score is, the better chance you have securing a loan. If your score is on the lower end, you'll be less likely to be approved for a loan, or you might get a loan with a higher interest to offset the lender's risk. Folks with good credit scores (750 or higher) will receive better interest rates and better terms for their loan.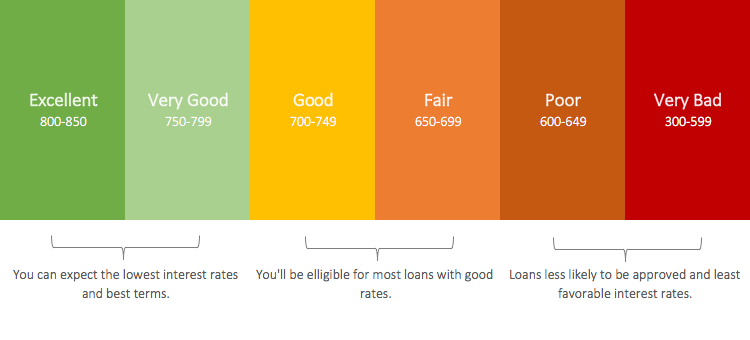 How to Improve Your Credit Score
While changes to your credit score take time, there are a few things you can do to give it a boost. First, when you receive your free report, look through it thoroughly. Note any errors in the report and take steps to correct them. For instance, you may be unaware that you have outstanding, revolving debt at a department store or perhaps the same store didn't record your last payment.
It's not unusual to have a bunch of outstanding debts from different sources. The fewer you have, the better off you will be. Try to pay off as many of the smaller debts as you can and avoid adding any new debts. Watch out for credit offers. A clothing store might offer you a great deal on your next purchase if you open a new account, but if you do, not only will the purchase add to your outstanding debt, but applying for a new card will trigger a new credit inquiry. Successive credit inquiries could lower your score.
Determining the Down Payment Needed
Simply put, the more money you put toward a down payment, the bigger your equity position in your new home, resulting in a lower monthly mortgage payment. Depending on the type of loan you take out, larger down payment could help you avoid mandatory mortgage insurance (an insurance premium tacked on to your monthly mortgage payment to protect lenders should the loan go into default). Here are some loan programs and their respective down payment requirements:
FHA Loans: 3.5%
VA Loans: 0%
USDA Loans: 0%
Conventional 97 (Fannie Mae): 3%
HomeReady (Fannie Mae): 3%
Home Possible (Freddie Mac): 3 to 5%

Step 2: Find a Lender
Just like other consumer products where you have a choice, you should comparison shop for a loan program and compare the lenders who provide them. Many banks and mortgage companies offer similar interest rates, so you might find that the best "fit" for you is simply the loan officer with whom you interact. A good salesperson will thoroughly explain each type of program available with their firm and make you feel comfortable.
Mortgage Terms
30-Year Mortgage: Spreads the principal and interest portion of the mortgage payments over thirty years, resulting in a lower monthly payment. This is the most popular loan term.
15-Year Mortgage: Spreads the principal and interest payments over fifteen years. This results in a higher payment. However, the loan is paid off faster, and interest rates on 15-year mortgages are typically lower.
Fixed Rate Mortgage (FRM): The same interest rate throughout the entire life of the loan, meaning the monthly payment will stay the same every month.
Adjustable Rate Mortgage (ARM): After its initial period (a set amount of time that the interest rate is fixed), the interest rate on the mortgage adjusts up or down. Then, the monthly amount of the house payment reflects those changes. Usually, ARMs are offered at lower interest rates than fixed rate mortgages. But over time it could catch up and even exceed the fixed interest rate product if the mortgage market brings higher interest rates. Be cautious here.
Types of Loans
Here are a few common loan products available and the differences among them:
FHA Loan: The Federal Housing Administration (FHA) insures loans made by private lenders. The insurance pool is managed by the Department of Housing and Urban Development (HUD). Many folks think that FHA Loans are only available for first-time homebuyers, but they are available to prior borrowers who've not owned a home in the past three years. The advantage here is that you can make a down payment as low as 3.5%. The disadvantage is that you could pay a little extra each month for mortgage insurance.
VA Loan: The U.S. Department of Veteran Affairs (VA) guarantees the safety (insures) private lender loans to military personnel and their families. The advantage here is that borrowers need not make a down payment (zero down).
USDA Loan: The U.S. Department of Agriculture (USDA) offers loans to "rural residents who have a steady, low or modest income, and yet are unable to obtain adequate housing through conventional financing." It is managed by the Rural Housing Service (RHS). Borrower income must not exceed more than 115% of the adjusted area median income (AMI).
Conforming Loan: A loan that does not exceed Fannie Mae's loan limits, thus "conforming" to many mortgage program guidelines.
Conventional Loan: A loan that is not insured guaranteed or insured by the federal government. Also, the loan amount does not exceed conventional loan limits.
Jumbo Loan: A loan that exceeds the conforming loan limits and therefore represents a higher risk to the lender. To use this type loan, a buyer must have good credit and bring a larger down payment to the table.

Step 3: Get a Mortgage Pre-Approval
Getting a loan pre-approval, before any other step in the home buying process, is a good thing. It demonstrates to your real estate agent and home sellers that a lender has reviewed your financial profile. An offer you make to a seller will carry much more weight than an offer from another buyer whose credit-worthiness has not yet been evaluated or verified.
Here are some of the documents you'll need to get pre-approved:
Borrower Identification: All borrowers and co-borrowers must provide a state-issued driver's license, photo ID card or a valid passport.
Tax Returns: You'll need to submit two years of tax returns and any W-2 forms if you work for a company. If you are self-employed, you'll need a profit & loss (P&L) statement, federal tax statements and balance sheets for the last two years. You might also be asked to give a copy of your business license or a letter from your accountant.
Pay Stubs: You'll need to provide the most recent 30 days of pay stubs or most recent P&L statement.
Bank Statements: You'll need to provide two months of your most recent bank statements. Provide a complete statement, including pages that are blank. Be sure that your account numbers are clearly visible as well. Send copies of all your bank statements from your savings, checking, brokerage, 401k, IRA, Roth and 403b accounts.
Other Documents: Depending on the lender and your circumstances, you might need to provide the following: mortgage gift letter, bankruptcy discharge paperwork, divorce decree, pension statement, Social Security/disability statement and Home Owners Association (HOA) Statement. Also, if you own other properties, you may be asked for current mortgage statements and a homeowner's insurance declaration. Whew!
At the end of this process, you'll receive a pre-approval letter which is your "golden ticket" when it comes to home shopping. The letter shows to the seller that you are financially able to purchase their property. Depending on the market and the seller, some sellers will not entertain any offers without a pre-approval letter. What's more, some sellers will not allow buyers to view their home in-person without a bank letter.
Since financial circumstances could change while your application is in underwriting, the approved amount that you're asking to borrow could change; thus the letter is not a guarantee to lend.

Step 4: Find a REALTOR®
What's the difference between a real estate agent and a REALTOR®? All real estate agents, by law, are licensed. Real estate agents who also belong to the National Association of Realtors (NAR) use the official designation, REALTOR®.
NAR members are held to higher standards than those mandated by law and must follow the organization's professional code of ethics. If they don't follow the rules, they'll be booted from the association and may not use the REALTOR® trademark.
As a buyer, you'll be looking for representation from a buyer's agent. (Just so you know, the seller is represented by a seller's agent or listing broker.) A buyer's agent only represents you and your best interests. That means they look for potential issues with a home you want to buy and negotiate the sale on your behalf to make sure the deal is fair. Important: buyers do not pay agents for help finding and purchasing a home.
Understanding the Different Types of Buyer's Agent Agreements
Buyer's agents typically ask for an agreement with their clients. There are three different kinds of contracts. Most will only work under the last type below:
Non-Exclusive/Not for Compensation: This means that the agent understands that the buyer may hire more than one agent to locate a suitable home. The buyer is not obligated to compensate the agent but has the right to demand single agency, a legal term meaning that a buyer can expect the agent to serve only them and not the seller, too.
Non-Exclusive, Right to Represent: This allows the buyer the right to purchase another property from a second agent if the property was not introduced first the first agent under contract. The buyer has the right to single agency, but the agent can receive a higher commission if the seller agrees to it.
Exclusive Right to Represent: This states that the buyer is not allowed to hire more than one agent to represent them. The buyer has a right to single agency. The commission is negotiable. The buyer may not be responsible for the commission if the seller pays for it. The agent can receive a higher commission if the seller agrees to pay more.

Step 5: Find a House
Of course, the best part of the home buying process is looking at potential homes! With most houses up for sale listed on the internet, home shopping is easier than ever. However, all this information can make the home buying process overwhelming.

Here is how to narrow down your choices. First, be sure that you have a discussion with your agent about the neighborhood and features you are looking for, including your "wants" and "needs" for a new home. Does the age of the home matter? How many bedrooms do you need? Are you looking for a large backyard? Does it matter if you move to a busy street or do you prefer a cul-de-sac? Single garage or multiple? With most listings online, why bother having this conversation? Well, not all homes for sale are listed online. "Pocket listings" are homes for sale that are not yet publicly available. Your agent might be able to suggest properties not yet posted.
Also, research neighborhoods with resources like Great Schools and Walk Score; they will help you uncover the quality of local schools, access to public transportation, and community amenities like nearby shopping centers and restaurants.
After you find a neighborhood that interest you, begin searching for homes based on your pre-approved loan amount. If it is a seller's market, be cautious falling in love with homes that are out of your price range; the chances of buying at a lower price in a hot market is not very likely.
If the market is cool (buyer's market), you will have better luck negotiating the final price, so you can search homes for listing prices a little higher than your pre-approved loan amount. Your agent can provide information about the current market temperature to help guide you.
When you see homes that interest you, be sure to let your agent know. They can see if there's additional information available before you venture inside. If you are looking in an area where home inventory is low, your loan pre-approval will come in handy - you'll be able to move quickly with an offer.
When viewing homes, be sure to balance your "needs" vs. your "wants." Sure, you might want a swimming pool, but if you need three bedrooms and the property you are looking for only has two, are you still willing to move there? At the same time, look beyond homes with unfavorable paint colors or unkempt landscaping – these things can easily be remedied.
Put together a "short list" of homes you like the most. The easiest way to do this is to give each of them a rating from 1 to 10 before viewing them in person. Then rate each of them after the first visit. After viewing several homes, keeping track will help recall what you liked and didn't like about each property, further narrowing your list as you go along.

Step 6: Make an Offer
Sellers can list homes at any price. Of course, that doesn't mean it's in line with what the market will bear. Your real estate agent can help you formulate a fair, data-driven purchase offer by checking their local Multiple Listing Service (MLS) for prices of recently sold, similar homes in the neighborhood. You may find that asking prices are over-inflated or right on the money. Conversely, a review of recent sales data can help uncover an asking price that is on the low side – a potentially great deal.
You may have heard folks talk about seller's markets and buyer's markets. Just like all other products and services, real estate conforms to the economic law of supply and demand.
A glut of housing inventory can drive prices downward, giving leverage to buyers (buyer's market).
The scarcity of inventory can drive prices up (seller's market).
Market dynamics affect not only price but the amount of competition from other buyers. In a seller's market with high demand and low inventory, houses for sale might receive multiple bids, further complicating matters.
Buyers can improve their odds of getting the house they want by including their pre-approval letter and proof of funds along with their purchase contract.
When you are ready to present an offer, your agent will put together standardized Residential Purchase Agreement (RPA) which is a legal document that gives the seller a written notice of your intent to purchase the property. Some purchase contracts are short and sweet with the intent to negotiate further while others are long and detailed.
The purchase contract will include: the property address, offer price, down payment amount, a mortgage contingency provision (see below), an earnest money deposit, a time limit by which the seller should respond to you, an expected date of completion (when you plan to take "possession" a.k.a. the move-in date), the name of the escrow or title agent holding the earnest money, items in the home you expect to be included (like appliances, light fixtures, etc.), another list of items that you are willing to pay for or have thrown in for the purchase price (like draperies, hot tubs, etc.), an agreement that the buyer is responsible for paying items like the utility bills, property taxes, etc. through the sale date and any other item your agent thinks is reasonable.
Repair Contingency: An inspection-contingency clause allows you to have the condition of the home evaluated by a professional before completion of the sale. Inspectors will check the soundness of the structure and internal systems, usually within a few days of the date of signing the agreement.
An inspector will determine whether the roof is still in good shape, that there are no leaky pipes, look for damage done by rodents or pests, etc. No house is perfect, and inspectors will produce a report of the findings. If anything is out of line, like water damage, you can request that the seller fix the issue (as a contingency) before going forward with the sale.
It is smart to specify that the home inspection happens on or before a certain date to keep the train running on time. You might even want to include a provision that states that the current owner will pay "rent" for each day they remain on the property after the proposed move-in date.
Appraisal Contingency: If you plan to finance the house with a loan instead of paying cash, your lender will require an appraisal of the home's value. Since a lender can refuse to make a loan based on the value of the house, all well-constructed offers include an appraisal contingency. Meaning, you can back out of the deal should the appraisal come in low and financing falls through.
Counter Offers: Even if you make what you feel is a fair offer for the home, do not be surprised or offended if the seller makes a counter offer. This is normal and happens often.
Counter offers may deal with one or more conditions outlined in the original offer, things like price, the proposed move-in date, or appliances you've requested to keep with the home. Whatever the case, if you are okay with their counter offer, you are on your way. If not, it's your turn to reply with a counter offer. The ball keeps bouncing back and forth until both parties agree to all conditions (or disagree, in which case it's time to move on to the next house that interests you).
Earnest Money Deposit: An earnest money deposit accompanies your offer as a sign of good faith. What's more, it will allow you more time to finalize financing if necessary. If your offer is accepted, the deposit will become part of your down payment. If your offer is rejected, you'll get the full deposit back.
However, if you later retract your offer for reasons not stipulated in the purchase contract (the contingencies), the seller will usually keep the money. Earnest money is held in neutral, third-party trust or escrow account. In sum, a buyer deposits money while a seller brings the title documents to the escrow service. There, both the money and documents remain safe and will not be released until the transaction is finalized.

Step 7: Closing Escrow
The closing stage is when all the elements of a real estate transaction described come together. Buyers and sellers are each responsible for certain closing costs (the fees and taxes associated with real estate transactions). Some are split between the two parties. For example, escrow fees are split 50/50 between buyers and sellers in Washington State.
Opening Escrow: This is the term that is used when starting the closing process. The buyer makes a good faith deposit (earnest money) and services like appraisals and inspection are ordered.
Seller Disclosures: Sellers must reveal any known issues with the property, additions or modifications like remodel projects.
Appraisal: A professional appraiser determines the current market value of the property. As mentioned above, lenders will insist the home is worth what you're paying for it.
Inspection: Not always required by law, but often required by lenders, inspections identify parts of the property that are in disrepair. Buyers and sellers can negotiate what gets fixed and whom is responsible for doing so.
Homeowner's Insurance: Shop around for best price and coverage. Be sure that you are familiar with what the policy will and won't cover. Standard insurance will usually cover any damage to the house, but most will require a separate policy for floods or earthquakes.
Home Warranty: A home warranty is a service contract that covers the repair or replacement of appliances and mechanical systems in a home for one year. Buyers and sellers sometimes split the cost of a warranty, but this can be negotiated as part of the deal.
Contingency Removal: Once every repair or change has been made, the buyer will remove the contingencies in the contract. This also obligates the buyer to purchase the property. If the buyer backs out at this point, the seller is given the earnest money deposit.
Final Walk Through: The buyer has one more chance to view the home before closing day to see if the sellers did what they promised that they would do to get the house ready (repairs, all personal items removed, etc.)
Closing Day: Closings are held at the title/escrow company or attorney's offices. This is when the note, deed, bill and title documents are signed. When all the paperwork is executed, proceeds are released to the seller.
Summary: The Home Buying Process
There you have it, the seven steps of the home buying process! Hopefully, you now know more about each phase and feel more comfortable about the road ahead of you. Your real estate agent will be able to assist you and answer your questions through each part of the home buying timeline. What's more, your lender can also provide answers, too. With everyone working as a team, you'll be in good hands the whole way.