What is a Home Warranty? Everything You Need to Know
Posted by Tony Mariotti on Monday, September 9, 2019 at 8:10 AM
By Tony Mariotti / September 9, 2019
Comment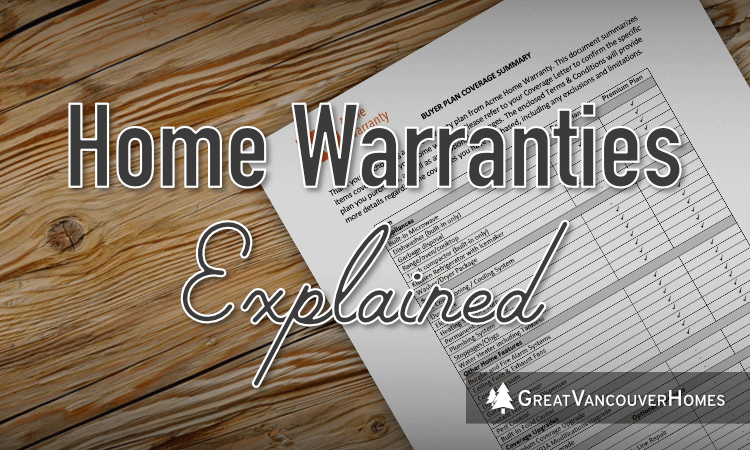 A home warranty is a service contract that covers the repair or replacement of appliances and mechanical systems in a home for one year. Warranties are renewable annually. Homeowners take comfort knowing that when items covered by their warranty fail, due to normal wear and tear, they will be repaired or replaced. In most cases, the only out-of-pocket expense for the homeowner is a service fee or small deductible.
What's the difference between a home warranty and homeowners insurance?
Homeowners insurance is property insurance. It protects homeowners against financial losses due to the destruction of their home - or the assets within it - due to natural hazards. Insurance plans also cover a homeowners' liability for injuries due to accidents on the property. Loss of personal belongings, due to theft, may also be included. If you buy a home with a mortgage, your lender will require you to purchase insurance. Home warranties are service contracts, not insurance policies. They cover damages to appliances and mechanical systems due to normal wear and tear. Mortgage companies do not require borrowers to buy warranties as a condition of taking out a loan. Service contracts are loosely regulated, whereas insurance policies are highly regulated by the state in which the policyholder lives.
Who pays for a home warranty?
Home warranties are rolled up into the final closing costs of a real estate transaction. Local norms dictate whether the buyer or seller pays for the warranty service contract. In some states, like Washington, buyers and sellers split warranties 50/50.
When does coverage begin?
Coverage starts the day escrow closes.
How long does coverage last?
A typical plan is prepaid for one year and renewable annually.
How much do home warranties cost?
Warranties range from a few hundred dollars up to a thousand dollars, depending on plans selected by the home buyer. Plans are tiered based on the number of items covered.
Who orders a home warranty?
Buyers can ask their real estate agent to provide the names of home warranty companies as well as the order forms for each. Buyers pick the coverage amount they want from the home warranty company (provider) of choice during the escrow period, usually just before closing. Fill out an order form and send it back to your agent who will then forward it to the escrow officer who is working on your deal. Home warranty companies offer pre-selected protection plan tiers. They bundle the most common items for which people seek coverage. The typical path for ordering coverage looks like this:
Start with a basic bundle of items to cover (e.g., a standard or basic plan)
Then add upgraded bundles to the plan (optional)
Pick coverage for individual household items not included in the basic or upgraded plans (optional)
What does a home warranty cover?
Warranty companies have their own, unique order forms that include all the possible appliances and systems covered in their service plans. Here is an example of how plan tiers can look:
Basic Plan
Unknown Pre-Existing Conditions
Unknown Insufficient Maintenance
Heating System/Furnace
Ductwork
Plumbing System
Stoppages/Clogs
Permanent Sump Pump
Electrical System
Water Heater (Tank or Tankless)
Dishwasher
Garbage Disposal
Built-in Microwave
Range/Oven/Cooktop
Trash Compactor
Whirlpool Bathtub
Doorbells, Burglar & Fire Alarm Systems
Ceiling Fans & Exhaust Fans
Central Vacuum
Pest Control
Instant Hot Water Dispenser
Built-in Food Center Garage Door Opener
Premium Plan (all Basic Plan items, plus the following)
Cooling System/Air Conditioning
Water Heater Sediment Buildup
Plumbing Fixtures, Faucets, Shower Heads
Optional Items (a la carte)
Replace Systems with Energy Star Certified Products
Limited Roof Leak Repair
Washer/Dryer & Kitchen Refrigerator w/ Ice Maker Bundle
Kitchen Refrigerator w/ Ice Maker
Washer/Dryer Package
2nd Refrigerator
Stand Alone Freezer
External Water Line Repair
External Water Line + Sewer & Septic Line Repair
Pool/Spa Combo
Additional Pool or Spa
Salt Water Pool
Well Pump
Septic System/Sewage Ejector Pump & Septic Tank Pumping
SEER/R-410A modifications
What is not covered by a home warranty?
Warranties may not cover routine maintenance or cleaning, drain line stoppages due to tree roots, and coolant evacuation and recovery. Warranty companies may not repair items due to improper maintenance, improper installation, or code violations. Homeowners may incur additional fees to dispose of the replaced item, modifications required to fit new equipment, code violations, permit fees, and coolant evacuation and recovery.
When something goes wrong, how do I file a claim?
When a problem with your appliances or mechanical systems arises, call your coverage provider. Then, the warranty company reaches out to a service contractor who calls you to schedule a service call at your home. Warranty companies maintain a list of preferred vendors who are part of their contractor pool. Homeowners pay a small service fee for the visit, but when the repair or replacement is complete, the contractor invoices the warranty company directly. Homeowners are responsible for any fees not covered in the warranty such as the service call fee or a deductible specified in their coverage plan.