Living in Camas: Here's What It's Like [INSIDER'S GUIDE]
Posted by Tony Mariotti on Wednesday, August 29, 2018 at 4:45 PM
By Tony Mariotti / August 29, 2018
Comment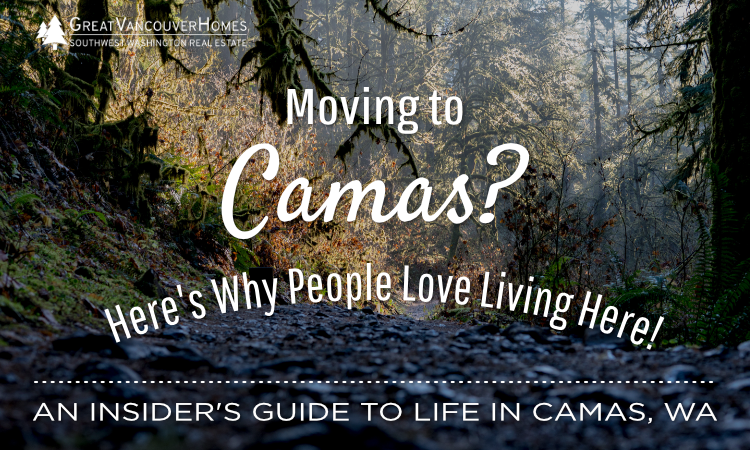 Thinking of moving to Camas, Washington? Living in Camas means being part of a highly-engaged community of people who care deeply about the town and make a habit of getting together for special events. The schools are excellent and well-funded. The downtown area thrives with unique small businesses.
The history of Camas is a story of adaptation and innovation. Whenever a broad transformation in the American economy takes place, Camas responds and adapts. In the short span of a little over one hundred years, it has been a frontier town, manufacturing powerhouse, and hub of high-tech industry. Its survival and prosperity are lessons in how a town, with a little foresight and luck, can reinvent itself at every turn.
History of Camas
Early recorded history of Camas area is best characterized as European explorers and French-Canadian fur trappers making intermittent contact with small bands of Native Americans.
In 1792, George Vancouver sent Lieutenant William Broughton to explore the Lower Columbia Basin. Lewis & Clark first stopped here in 1805 and continued to document their findings in the Camas/Washougal area in 1806.
Fort Vancouver was built in 1824, which brought more Europeans to the area. Unfortunately, this triggered epidemics that took a massive toll on the native population from roughly 1829 to 1854.
The name Camas comes from Cammassia, a genus of plant in the asparagus family that grows on local prairies, particularly in moist meadows. The plant is both edible and delicious. French settlers at Fort Vancouver referred to the area as "la kamaas" or "la camas."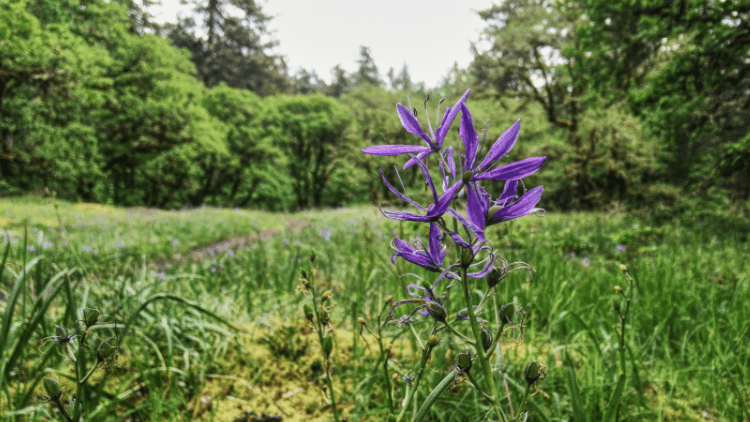 A Camas Lily Near Lacamas Lake
By the mid-19th century, the most you could say about the Camas/Washougal area was that a few whites sporadically settled it. That was about to change. Henry L. Pittock, businessman and owner of The Oregonian Newspaper, was on the hunt for place near Portland to build a paper mill to supply his operations.
Pittock and his associates identified Lacamas Lake, Round Lake, Fallen Leaf Lake as abundant and stable sources of water (a big requirement for producing paper). The Camas area turned out to be a good fit for the mill site based on three key criteria:
An ample supply of lumber (plenty of that, just look in any direction and you'll see trees)
A reliable water source for manufacturing (the three lakes mentioned above)
A connected waterway for shipping (Columbia River)
In 1883, Pittock formed the LaCamas Colony Company, purchased 3,000 acres of present-day Camas, and set up the mill. This was founding the town then known as La Camas and marked the transition from frontier town to village. In 1894 the United States Postal Service dropped "La" from LaCamas so that the town would not be confused with LaCenter or LaConner.
In 1906, the city was incorporated the name Camas was officially adopted. For years, as a small act of revolution, people still addressed mail to LaCamas. Today, you can see the name Lacamas reflected (pun intended) in the names of landmarks like the lake, park, creek, and businesses like the Lacamas Credit Union.
Over the next few decades, the mill expanded its production capabilities by adding more machines, and the population of Camas grew along with it. By 1923, the Camas mill had the distinction of being the home of the world's largest paper machine. Shipbuilding in nearby Vancouver, WA during WWI and WWII (the mill manufactured parts for Liberty ships), along with the increasing worldwide demand for newsprint, drove more growth.
Camas' next economic growth spurt (and transformation) started in the 1990s when high tech companies seeking cheap electricity (vis a vis hydroelectric power from nearby Bonneville Dam) and abundant water for manufacturing set up shop. Sharp Microelectronics, Linear Technology, and Wafertech were the result.
So far, you can see that a portion of Camas' success story was based on an abundance of natural resources: a lot of water; plenty of trees; and cheap electricity from a nearby dam built by the Works Progress Administration. The next part of the story explains where the involvement of citizens, strategic thinking, and city planners played a role.
Downtown Camas
Downtown Camas it the well-preserved commercial core centered on NE Fourth Avenue. Its known for attractive tree-lined streets and thriving locally-owned and operated businesses. The district is small, thus highly walkable. The unique character of Downtown Camas and success as a thriving shopping and social gathering spot was not always a sure bet.
In the mid 20th century, city officials, business owners, and residents recognized that they were facing an uncertain future brought about by the construction of highways and mall culture.
Businesses in Camas needed a way to retain customers who might easily drive to malls in the Portland area that had huge, free parking lots. And, they knew they needed to attract new customers who might otherwise bypass the city thanks to the emerging trend of drivers getting on highways and blowing past small towns on their way someplace bigger and presumably better.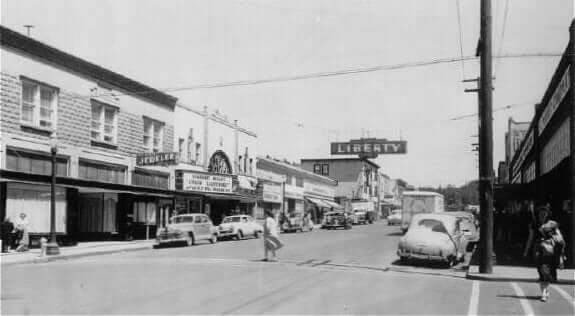 Downtown Camas Circa 1950
In 1966, a few Camasonians representing downtown businesses came up with a plan called Operation 4-Sight. They studied something called a "shopping park" concept recently pioneered in Grand Junction, Colorado. The idea was to designate a few blocks of downtown where a concentration of improvements could be made that would stave off the economically debilitating forces of modern life on small towns: the aforementioned freeways and shopping malls. Shopping parks work to attract shoppers and commerce via the following elements:
Designs that make pedestrians a priority
Parking is pushed away from the main street to side streets, but still very close-by
Angled parking increases capacity and reduces congestion
Shrubs and planters make for a pleasant, welcoming environment
Conveniently placed benches so people stick around and socialize
Foresight and cooperation led to downtown Camas' charming look and functional design. And, it worked. Downtown thrives and continues to be the heartbeat of the city. Its village-like appeal keeps commerce flowing as well as friendly interaction among its citizens. Visitors are especially welcomed. Many even come from Portland to enjoy the unique shops with a charming and relaxed atmosphere.
The City of Camas remains vigilant about keeping the downtown area attractive and functional. In fact, city planners published a carefully crafted, detail-oriented "Downtown Design Manual" that specifies the look and feel of the commercial core.
The document cover streetscape elements such as:
Landscaped frontages
Potted flowers in hanging baskets
Public art (e.g. small statues)
Themed, ornamental street lamps
The City makes a concerted effort to preserve of Downtown Camas' aesthetic right down to the color of paint (muted) and signage allowed. Street crews never let any element of the district or its distinct visual heritage deteriorate.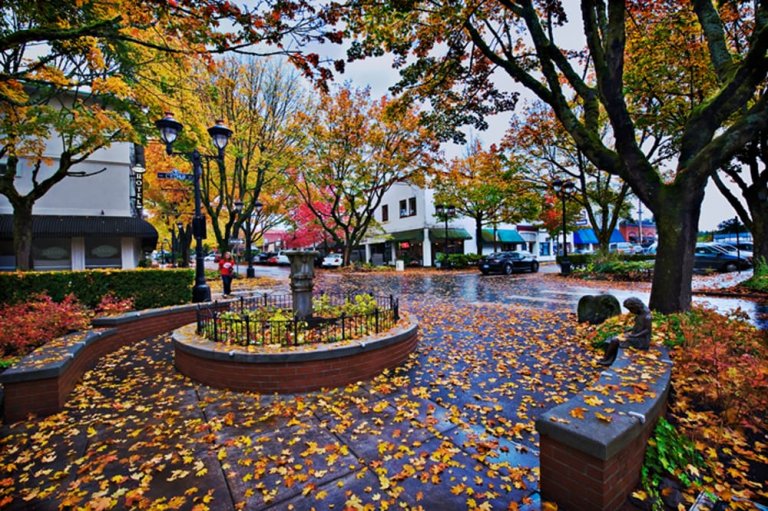 Downtown Camas Today (Camas Hotel)
Camas attracts many small businesses to set up shop for two principal reasons. Firstly, downtown is well-maintained and charming, thus drawing lots of foot traffic, an obvious requirement for a successful brick and mortar operation. Secondly, Camas residents' high household income makes downtown a good fit for boutiques and lifestyle businesses that cater to consumers who have ample disposable income.
Camas Neighborhoods
Camas is built on a series of hills so no matter where you go, territorial views of mountains, lakes, or rivers (in the best places you can see all three) are common. Parts of Camas are still very rural, mainly north of downtown on State Route 500 toward Fern Prairie. No matter where you live here, nature is only steps away.
This city is spread out with several small subdivisions and enclaves, each with a distinct vibe based on the era in which the homes within them were built. The neighborhoods and homes in Camas are best characterized the following way:
Small, turn-of-the-century homes near downtown, built for mill workers when walking to work was the norm (e.g., Forest Homes Park)
Single-story, postwar and traditional homes built on the hills above downtown (e.g. Crown Park)
Mid-century homes near downtown (e.g., Evergreen Terrace)
Multi-story, contemporary and custom homes built in areas subdivided from the 1990s onward (e.g., Deer Creek, Lacamas Shores)
Neighborhoods outside the city limits (unincorporated areas of Clark County that reside within the Camas School District boundaries) follow a less predictable timeline concerning development; it has been more of an ongoing phenomenon. Small farms and homes date back to the arrival of the earliest settlers. Today, farmland and open spaces are subdivided and filled with new, custom-built or planned contemporary homes.
Community Events and Resources
Camasonians congregate downtown year-round. The city has weekly, monthly, and annual events that locals eagerly anticipate.
For example, on First Fridays (if you hadn't guessed, occurs on first Friday of each month) downtown business stay open late and revelers gather for art, dining, and after-hours shopping.
The Camas Public Library (1923) hosts ongoing programs for kids, teens, and adults. Sign up for a class, book club, board game night, crafts workshop, or kids' storytime. Be sure to check out the art gallery upstairs, aptly named the Second Story Gallery (also open on First Fridays).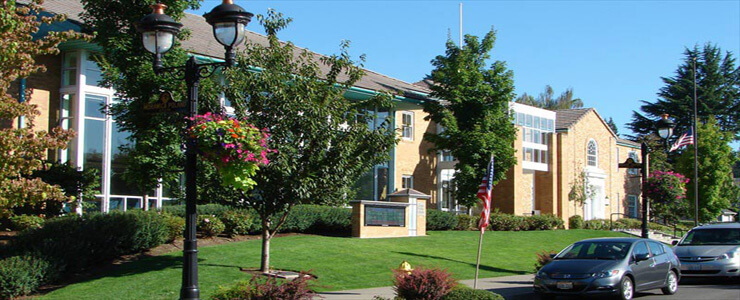 Camas Public Library
Right next to the library, every Wednesday from June to October, Camas Farmers Market brings farmers and Camasonians together. Peruse the stalls and pick up some flowers, natural products, fresh produce, and prepared foods.
The biggest community celebration occurs each summer during Camas Days, a weekend celebration organized by the Camas/Washougal Chamber of Commerce. The parade, street vendors, and evening beer garden with live entertainment pack the downtown each year.
Speaking of beer, one thing is sure: in Camas, you're never far from locally-brewed and/or premium craft beer. Beer is a thing in the Northwest. Even the historic Liberty Theatre (1927) serves craft beer and wine to movie-goers. Local brewpubs, bars, and restaurants serve dishes in a wide range of ethnic styles and culinary influences. Regardless of the style of food served, the odds of the establishment having craft beer on tap is extremely high.
Camas' proximity to Portland, OR makes it easy to take in a world class play or a concert at the Oregon Symphony. Day trips to Portland with kids can include trips to Oregon Museum of Science (OMSI), Oregon Zoo, or the Portland Children's Museum. The Portland International Airport (PDX) is particularly convenient for frequent business travelers; it's only 12.4 miles away, just across the river.
Parks and Recreation
Spending time outdoors is a big part of life in the Northwest. Folks living in Camas have a ton of ways to enjoy nature without leaving town or even more activities just a short drive away.
In Town
Due north of Downtown Camas sits a tight cluster of lakes: Lacamas Lake; Round Lake; and Fallen Leaf Lake. Fishing and small boats are allowed on any lake. Power boats, water skiing, and watercraft are permitted on the largest of them, Lacamas Lake. You can bring your stand-up paddleboard (SUP) or kayak (or rent them) to enjoy some quality time and exercise on the water.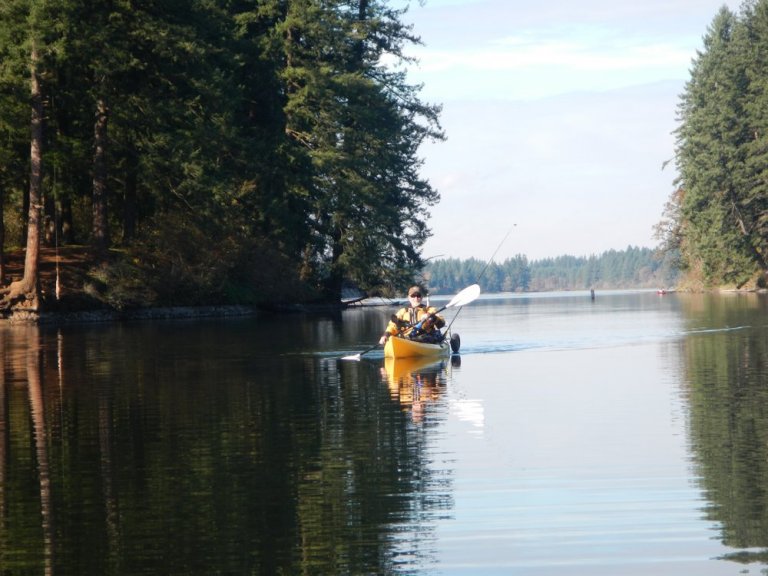 Kayaking on Lacamas Lake (Scott G.)
Two excellent parks are situated near the lakes.
Lacamas Park sits on 312 acres and has 9.5 miles of trails. Picnic tables, play equipment, restrooms, and barbecue grills are located near the small parking lot.
From the parking lot, head south on Lacamas Creek Trail to visit the Camas Lilly Fields, a particularly colorful spot when lilies bloom in mid-April. The trail is excellent for walking, biking, and jogging. During the summer, swimmers can enjoy the area's potholes, small but deep pools that form in the riverbed from erosion.
Heritage Park sits at the southern point of Lacamas Lake. There's a two-lane boat launch, and the parking lot here is much bigger with spaces for vehicles and trailers. Picnic tables, restrooms, a floating dock, and a huge grassy area make it a great base of operations for a day of fun.
Louis Bloch Park (1940) is one of the nicest youth baseball parks in America. The 3.85-acre park (like a few others in town) was gifted to the city by Crown Zellerbach Corporation. It's a longtime host to state-wide and regions Babe Ruth tournaments. Teams from as far as Canada come each summer to compete.
Several smaller pocket and sports parks dot the city from edge to edge. You're never far from a place to let your dog run, enjoy a game of basketball or soccer, or flat out getting the kids out of the house for some exercise on play equipment.
Camas Meadows Golf Club is a public, 18-hole championship course abutting the northwest corner of Lacamas Lake. The offer Men's and Ladies's Clubs as well as a youth program. If you're a golfer who enjoy some variety, check out nearby Fairway Village Golf Course (Vancouver) and Orchard Hills Golf Club (Washougal).
Nearby
Skiers and snowboards are just 90 minutes from the lifts on Mt. Hood at either Timberline Lodge or Mt. Hood Meadows. For experienced skiers and riders as well as beginners, Meadows is larger and offers more challenging terrain.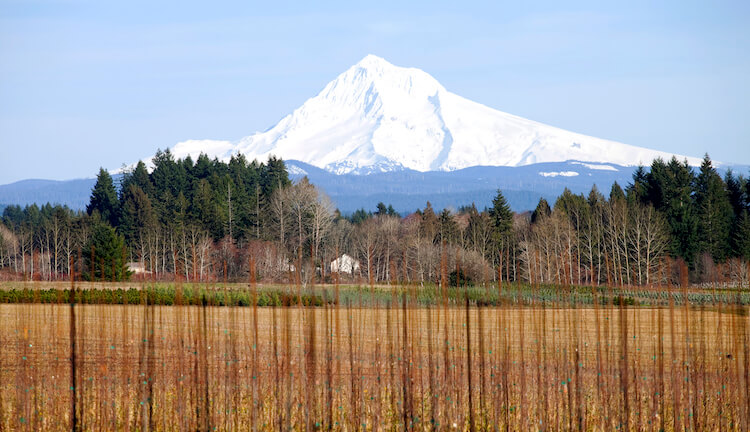 Mt. Hood
The Columbia River Gorge offers many hiking trails on both sides of the river. Some hikes are moderate and some are quite challenging. Anyone willing to climb to the peak of a trail is rewarded with panoramic, breathtaking views.
Clark County is becoming recognized for its viticulture. You can visit the winery tasting rooms nearby. Day trips to nearby Willamette Valley are also worthwhile. The region's climate and soil are similar to Burgundy France; no wonder the wines produced here earn international awards.
In about 90 minutes, you can drive to the Oregon or Washington Coast. On summer days, you can enjoy the beach or a round of golf. Winter getaways might include a tour of the Tillamook Cheese Factory.v
Schools in Camas
Camas School District operates the public schools in Camas. The district has a stellar reputation that they can back it up: its schools routinely receive state and national awards.v
Individual school buildings have earned the Washington Achievement Award from the Office of Superintendent of Publish Instruction (OSPI). U.S. News & World Report rank Camas High School as a "Top 20" high school in Washington State.
If you're living in Camas and have kids, you'll be sending them to some of the best schools in the state.
The district comprises the following:
4 Preschools
6 Elementary Schools
3 Middle Schools
3 High Schools
Employment
Manufacturing is in Camas' DNA. It was a longtime, one-company town where papermaking was the chief means of living for thousands of Camasonians over several generations.
Since the early 1990s, the industrial base in Camas simultaneously diversified and grew more sophisticated. Several modern manufacturing and high-tech firms moved their headquarters here or set up additional facilities here. It is also home to a financial services juggernaut. Here's a list of a few big names:
Georgia Pacific
Fisher Investments
WaferTech
Underwriters Laboratories (UL)
Fuel Medical
Landa
Analog Devices
Furuno USA
There's also a thread of independence that runs through the local economy. Camas is teaming with small, locally-owned businesses. And, Camas has become an ideal location for remote workers or self-employed professionals who only need a laptop and a decent internet connection to do their work.
More Camas Info
Climate
Like the rest of the Pacific Northwest, Camas has a long rainy season from late fall to late spring (Oct. to June). However, the microclimate in the Camas area is a little different than the rest of the region because of its proximity to the Columbia River Gorge.
On a typical fall or spring morning, fog settles over the Columbia River and pushes into the nearby low-lying areas of Camas, but it typically burns off by midday.
Morning fog (top) over the Columbia River near Camas burns off by mid-day (bottom)
In winter, Camas gets blasts of cold air that originate in Canada, make their way down to Eastern Washington, sweep through the Columbia River Gorge, and empty into East Clark County. Camas and nearby Washougal bear the brunt of it.
The colder air here means Camas typically gets more snow than other cities in Clark County. For sure, the roads can get very icy, especially on bridges. Freezing rain is not uncommon, particularly in early spring.
Quick Facts
Estimated Population: 22,000
Land Area: 13.49 square miles
Population Density: 1,630 people per square mile
Zip Code: 98607
Elevation: 75 feet
Living in Camas: Final Thoughts
Camas is a thriving small town that has transformed itself over the years and kept pace with broader economic changes in the American economy. It is home to manufacturing, but it is also a high-tech hub.
Resources like a modern public library and regular events like the farmers market and Camas Days help keep the city a close-knit community. Excellent schools, vibrant downtown, friendly people, and gorgeous natural surroundings make the quality of life here hard to beat.