Living in Washougal: Here's What It's Like [INSIDER'S GUIDE]
Posted by Tony Mariotti on Sunday, September 16, 2018 at 9:47 AM
By Tony Mariotti / September 16, 2018
Comment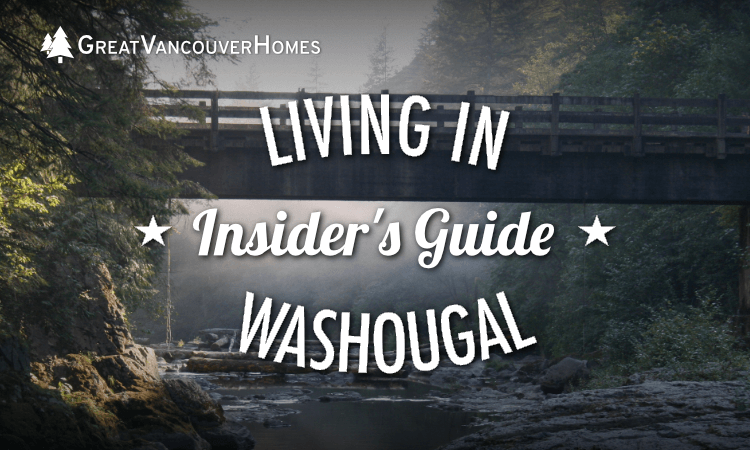 Thinking of moving to Washougal, Washington? Living in Washougal means people know your face even if they don't know your name. Residents enjoy the comfort and familiarity of small-town life. It's a welcoming community that is small enough for folks to recognize each other but big enough that there's always someone new to meet.
What follows is a Washougal relocation guide to help folks get a sense of the area and what it's like to live here.
History
The Lewis & Clark expedition passed through Washougal twice, once on the way downstream in 1805 and once on the way home in 1806, stopping at Cottonwood Beach for six days to hunt game, cure meat, and gather provisions for their journey.
The origin of the name Washougal is not clear, but it is believed to be a Native American term for "rushing water.' Early explorers referred to the prairie where town sits today as Washougally Camp.
Over the next few decades, explorers, trappers, and traders would encamp on the banks of the Columbia River near present-day Washougal. By the 1840s, a few early pioneers had squatted land, eventually claiming and taking possession of the areas they'd settled when the Donation Land Claims Act passed in 1850.
vIn the 1880s, early settlers began selling off portions of their estates (by the acres) or platting land to create town as David Parker did when he founded Parkersville on the Columbia River. In 1887, about a half mile upstream, the first few businesses opened up such as a carpenter shop, hotel, and general store in present-day Washougal. The population was 150 souls.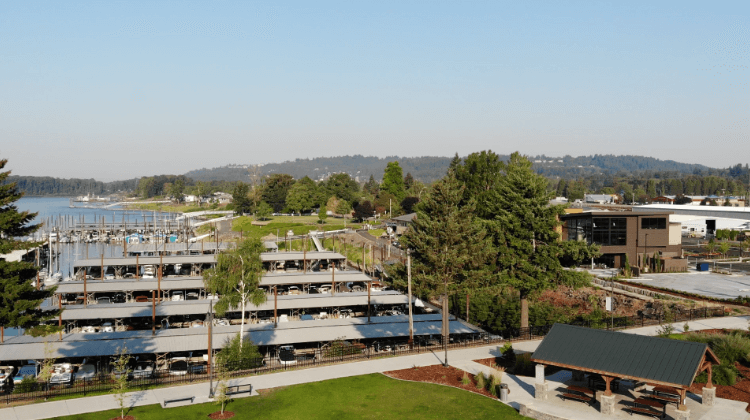 Parker's Landing (Parkersville) Today
Washougal was incorporated in 1908. At the time, the local economy consisted of dairy farming, logging, and manufacturing at the paper mill in nearby Camas. Agriculture and paper making had always relied on local natural resources like fertile soil, dense forests, and abundant supplies of water. The Columbia River was particularly crucial for shipping goods. At the time of Washougal's incorporation, newly installed telephone, power, and railroad lines connected Washougal to the broader world at a faster clip, spurring greater economic activity.
Soon after that, the Washougal Woolen Mill (1910) opened which eventually sold to Pendleton Corporation. The Pendleton Woolen Mill produced blankets for American troops during WWI and expanded to other military gear during WWII. The mill is a thread of continuity (pun intended) between the city's past and present day. It is still the biggest local employer.
Location of Washougal
Washougal's location balances the benefit of small town living with closeness to big city amenities. The town is quaint and surrounding areas are rural. Because Washougal sits on the eastern edge of Clark County, it is branded as the "Gateway to the Columbia River Gorge." The moniker lives up to the hype: homes in Washougal have 'front row' views of The Gorge, Columbia River, and Crown Point across the river - a basalt promontory at the top of which sits Vista House offering extraordinary, full east to west views.
However, great views and country living do not come at the cost of going without the finer things in life. With a short drive, you'll be able to watch the latest blockbuster film at a cineplex or enjoy an evening of fine dining. Nearby Portland has a vibrant arts and music scene. You'll find all the major department and big box stores just across the river, too. Getting in and out of the area for vacation and work travel is a snap via Portland International Airport (PDX).
Downtown Washougal
Between 1999 and 2009, Washougal's population increased by more than 60 percent, from 8,595 to 13,870. That's a fairly accelerated clip when compared to the rest of Clark County which grew by about 28 percent. In the midst of the expansion, the City of Washougal adopted a revised Comprehensive Plan (2003) to revitalize the downtown, attract new businesses, broaden the economic base, and preserve historic sites.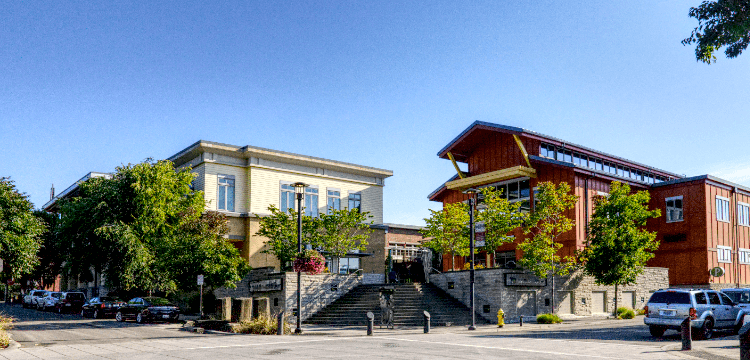 Downtown Washougal
The Camas-Washougal Historical Society operates Two Rivers Heritage Museum where visitors can examine collections of textiles, hand tools, and artifacts. The museum proudly takes a multi-cultural approach to the complex history of the Lower Columbia Basin.
Grab a free art map and take a self-guided Washougal public art tour. The city has over 30 installations of sculptures, murals, stained glass, and even dugout canoes. Objects may be historical, educational, or whimsical.
Ever wonder how wool products like shirts or blankets are made on an industrial scale? Check out the looms, dyes, and fabrics on the Pendleton Woolen Mill Tour. When you're done, you can visit the factory store if you'd like to purchase any of their products.
Community
Reflection Plaza is the focal point of the revitalization of Downtown Washougal. It's a community gathering spot with picnic benches, shade trees, and public art. The tower in the center of the plaza is the site of a well that provided fresh water to early settlers. Today, there are drinking fountains, one for humans and one for dogs! Locals get together each year in the plaza for the Lighted Christmas Parade and Tree Lighting.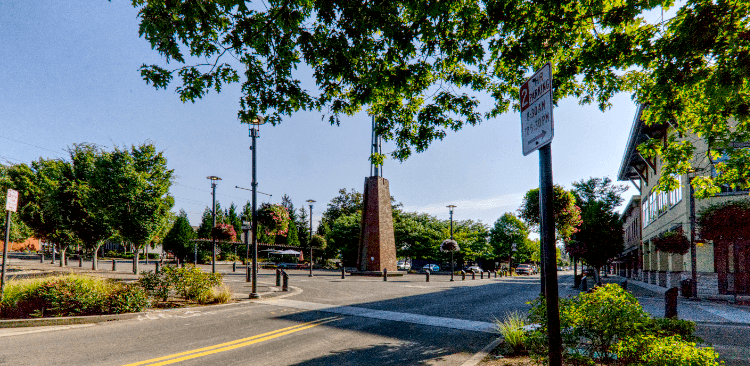 Reflection Plaza
The Washougal Community Library, part of the Fort Vancouver Regional Library System, is a cherished local resource not only for checking out books and periodicals but for a wide range of programming. They have story times (for preschoolers, children, and families), book clubs, workshops (from technology to gardening) and a trivia night to name just a few activities.
Food
Washougal's growth has been a driving force for entrepreneurs to open new restaurants in town, offering more culinary variety than in the past. You can still find casual staples like burgers and beer, but newer establishments on the scene offer sushi, comfort food, and home-style brunches.
Just like the rest of the Pacific Northwest, craft beer is a standard offering in restaurants and bars. Washougal has brewpubs and taprooms, too. Coffee aficionados will love the fact that they can get third-wave espresso without trekking all the way to Portland. And, eaters with dietary restrictions will find vegan menu choices. It says a lot about the culture of the Pacific Northwest when these kinds of things – formerly just for big city dwellers - filter into small towns, too.
Parks & Recreation
No matter where you are living in Washougal, you are never far from a park, river, or trail. Getting outside and enjoying nature is easy and comes highly recommended as a way of dealing will the doldrums of the long, cloudy winters here.
In Town
The Washougal River draws locals and out-of-town visitors for its excellent fishing, kayaking, and drift boating. In the summer, crowds gather at Sandy Swimming Hole to cool off in its refreshing waters. Only non-motorized boats are allowed here, so bring your inflatables for a calming afternoon on the water.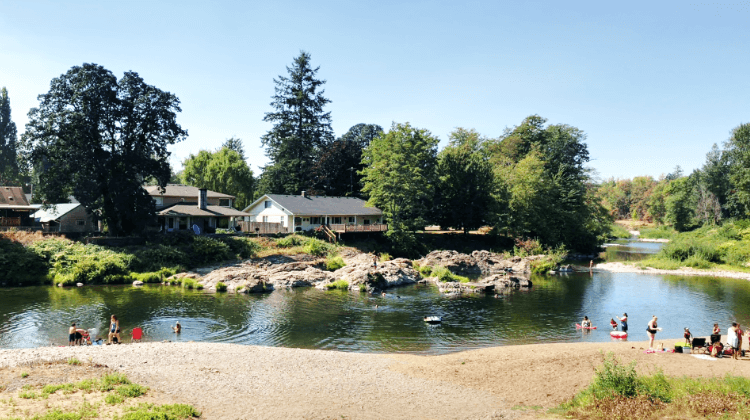 Sandy Swimming Hole on the Washougal River
The section of the Columbia River near Washougal remains busy year-round. It's a major shipping lane for barges and a favorite part of the river for fishing and boating. The Port of Camas-Washougal is the widely-used access point and has a four-lane boat ramp and a 350-slip marina. The parking lot is huge and reasonably priced. The Port sits on the western edge of the city limits. Adjacent to it you will find Parker's Landing and the Washougal Waterfront Park and Trail.
Just east of The Port, a cluster of parks and interconnecting trails follows the shores of the Columbia River. A pedestrian tunnel under Highway 14 makes it easy (and safe) for walkers, joggers, and cyclists to get between Downtown Washougal and Steamboat Landing Park. On the river side of the highway, folks can enjoy the Lewis & Clark Heritage Trail (also known as the Columbia River Dike Trail) and Captain William Clark Park which includes Cottonwood Beach, a favorite swimming spot during the summer months.
At the eastern edge of Washougal's city limit, closest from The Gorge sits Gibbons Creek Wildlife Art Trail which combines art and nature. It is a 2.8-mile trail that winds its way through Steigerwald Lake National Wildlife Refuge, a 1,049-acre sanctuary. Bird watchers and photographers flock to the area because it is a prime spot to view migratory birds, waterfowl, and turtles. The flat, easy trail takes visitors through the wetlands where they will pass installed art like steel sculptures. The sanctuary sports excellent views of Mt. Hood and Crown Point to boot.
Hathaway Park is the biggest park in Washougal (15.8 acres). It sits on the shores of the Washougal River. The boat launch is a popular access point to the water, especially for drift boats and kayaks. Only non-motorized boats are allowed this stage of the river. Amenities within the park include picnic tables, playground equipment, asphalt paths, sports fields, and a Pickleball court. Several neighborhood pocket parks dot the rest of the city.
Golfers can consider joining Orchard Hills Golf & Country Club, a private outfit in town with an 18-hole regulation course and clubhouse. For variety, golfers can drive through The Gorge to a Beacon Rock Golf Course, a fun 9-hole public course in a gorgeous natural setting. Fairway Village (Vancouver) and Camas Meadows are two more public courses just a short drive away.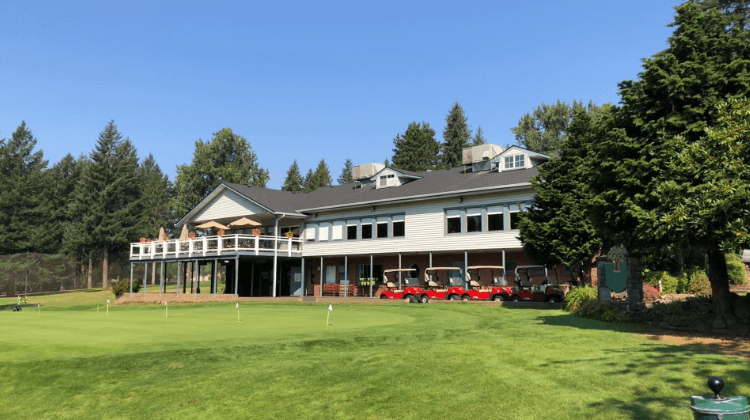 Orchard Hills Golf Club
Nearby
Just a few miles northwest of Washougal sits Lacamas Lake, a popular spot for kayaking, fishing, and boating. Motorized boats are allowed on Lacamas Lake but not on the adjacent Round Lake or Fallen Leaf Lake.
Lacamas Park sports over 300 acres of streams, dense forest, small lakes, meadows, and a network of 43 trails to explore. The park has picnic areas with tables and barbecues close to the parking lots. Most visitors venture further into the trail system by foot or on a bike. Each year in April, the park's marshy meadows are full of blooming Camas Lilies.
The Columbia River Gorge begins just beyond Washougal's eastern city limit. Some favorite spots for hikers include Cape Horn Trail and Hamilton Mountain. A moderate scramble up Beacon Rock's trail (which contains a switchback section of stairs) will result in 360-degree, unobstructed views right in the heart of The Gorge. Snowboarders and skiers make day trips to the ski areas of Mt. Hood which are about a 90-minute drive east from Washougal. Head west for about the same amount of time, and you can enjoy the Oregon or Washington coasts.
As mentioned above, while Washougal is small, it is close enough to Vancouver and Portland that there's no trouble catching the latest blockbuster movie or enjoying the area's excellent restaurants. Museums, symphonies, and theatre plays are less than a half hour away. Sport fans can attend a Major League Soccer match (Timbers or Thorns) or National Basketball Association game (Portland Trailblazers).
Washougal Events
Annual events in Washougal provide entertainment, celebration, and a way for the community to come together. Here are some of those events:
Heritage Day
October Fest
Apple Festival
Pumpkin Harvest Festival
Firefighter's Turkey Carnival
Christmas Ships
Lighted Christmas Parade & Tree Lighting
Festival of Trees
By far, the biggest annual event takes place at the Washougal Motocross Park. Each year, the grounds host thousands of racing fans for the Washougal National, a round of the AMA Pro Motocross Championship. The park opened in 1972.
Washougal Schools
Washougal School District operates the public schools in Washougal. The district comprises the following:
4 pre-K (3 to 5 years-old) schools
4 elementary schools
2 middle schools
1 high school
Washougal teachers also receive support from Washougal Schools Foundation which awards grants for innovative programs that go beyond existing classroom curriculum. Teachers create and pitch new classroom programs designed to enrich students' educational experience. Classroom grants (or mini-grants based on the scope of the proposal) are awarded to the most promising ideas.
Employment
Manufacturing forms the backbone of Washougal's economic base; the sector employs the most people in town. This has been the case for a long time partly because of the Port of Camas-Washougal's Industrial Park near Downtown Washougal. The Port maintains the park and the invests in projects that attract commercial tenants to maximize economic activity in the area.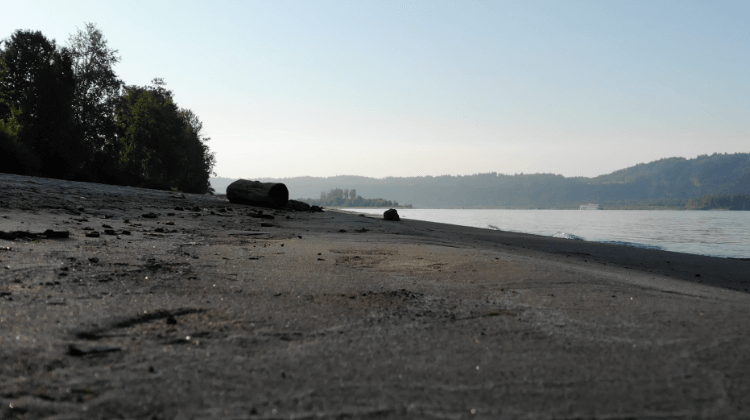 Cottonwood Beach Near CW Industrial Park
Forest products are well-represent in the list of major employers below. No doubt, you can look in any direction and see forests that provide the raw materials for products like decking, fencing, siding, pilings, etc.
Pendleton Woolen Mills (wool fabric)
BBA Nonwovens Washougal, Inc. (non-woven materials)
Saint-Gobain Crystal & Detectors (synthetic crystals for lasers and light emission displays)
Exterior Wood (treated wood)
Advanced Drainage Systems (plastic pipe)
Evergreen Forest Products (treated lumber)
All Weather Wood Treaters (treated lumber)
Piller Aimmco, Inc. (plastic injection molding)
Washougal also attracts people who are part of today's remote workforce. If your career only requires an internet connection and laptop, and you like the idea of living in a small town, Washougal could be an excellent fit for you.
That's not to say folks here don't commute. Each work week morning, a heavy stream of cars flows down westbound Highway 14, the main artery along the Washington side of the Columbia River, heading to Camas, Vancouver, and Portland. Onramp backups of commuters looking to cross the river on the Interstate Bridge (I-5) or Glenn Jackson Memorial Bridge (I-205) into Portland are part of the deal.
More Washougal Info
Climate
In winter, temperatures in Washougal get a few degrees colder than nearby Portland and Vancouver due to the city's position at the entrance to the Columbia River Gorge. Weather systems from Northern Canada make their way down into Eastern Washington, then push through the Gorge, finally emptying into the Lower Columbia Basin. Washougal is hit harder than other parts of the Lower Columbia Basin because the air stream is strongest near the narrow mouth of the Gorge where it sits. Suffice it to say, it's a little windier here, too.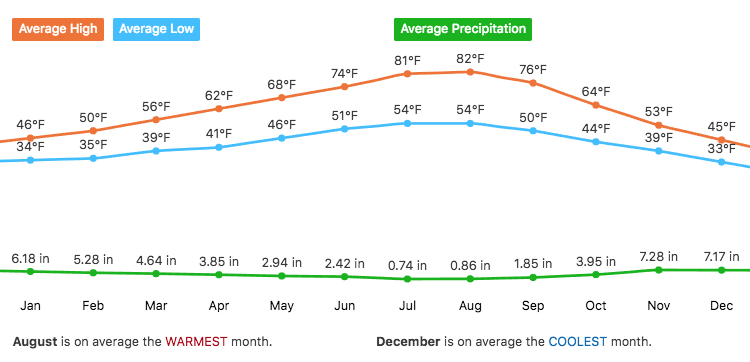 Washougal Average Temperature
In spite of the colder temperatures, Washougal does not get a lot of snow. More often, the area's roads will get icy. Expect freezing rain in late winter and early spring.
Summers here make tourists jealous that they don't live here. All the rain that falls here produces an extremely verdant environment. Green is everywhere. Mountain and territorial views are unparalleled. Activities like boating and hiking are best here during the summer. What's more, just as the weather cooperates with abundant sunshine during the summertime, the days are also much longer, giving people more time to stay outside enjoy their favorite activities.
Stats
Estimated Population: 15,750
Land Area: 5.42 square miles
Population Density: 2,905 people per square mile
Elevation: 79 feet
Washougal to Vancouver, WA: 12.5 miles
Washougal to Portland, OR: 22.9 miles
Washougal to PDX: 15.2 miles
Final Thoughts: Living in Washougal
People move to Washougal for a variety of reasons whether it's a job change, a new start, or just for the small-town vibe and quiet neighborhoods.
Residents love the bucolic setting, excellent territorial views, and charming downtown. Washougal has enough restaurants and amenities to remain pretty self-contained, but residents often find themselves venturing to nearby Vancouver or Portland for big shopping trips or a more extensive variety of dining and entertainment options.
For people who like to be outdoors, you'd be hard pressed to find a better place to live than Washougal. In addition to golfing and neighborhood parks, lakes, rivers, and hiking trails are merely steps away from any neighborhood.