Moving to Portland? Here's What Living Here is Like [Insider's Guide]
Posted by Tony Mariotti on Wednesday, October 12, 2016 at 8:17 AM
By Tony Mariotti / October 12, 2016
Comment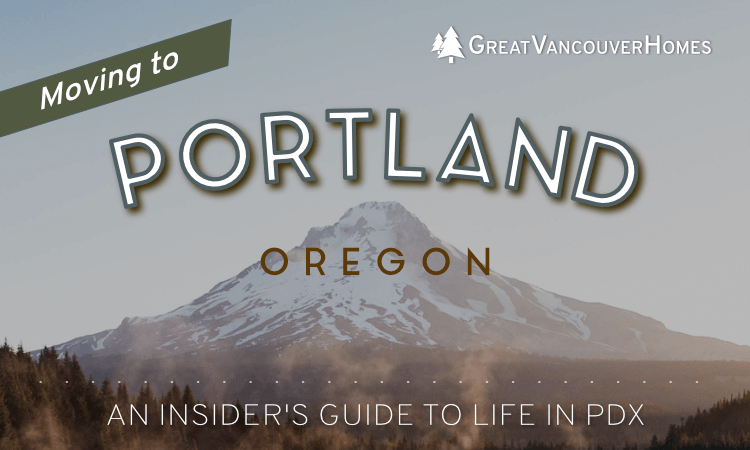 This article was updated 6/10/2020
You can think of moving to Portland, Oregon as an exciting and unique experience - some might even say weird - depending upon comfort level with progressive politics and hipsters.
After all, this is the place where folks commonly raise backyard animals (like chickens) and keep bees. In typical PDX (local airport call sign and a synonym for Portland) fashion, rather than banning backyard critters, the city adopted codes and issues permits to raise animals.
Living in Portland puts you geographically between the Columbia and Willamette rivers, the former creating a natural border between Oregon and Washington State. Hills, rivers, and the distant Cascade Mountains dominate the visual landscape.
Portland is Oregon's largest city and home to a little over 647,000 people living within its borders. The city is divided into six main regions comprised of ninety-three official neighborhoods. That makes it the 26th largest city in the United States. If you zoom out a little, the Portland metro area looks much larger; it includes seven counties, two of which sit inside Southwest Washington. Add the local communities up and the total population of the Greater Portland Area comes to 2.453 million people.
Here's some food for thought: a lot of folks considering a move to Portland might want to contemplate living and working on the Washington side of the Columbia River in Vancouver, WA. There is no state income tax in Washington. If you're thinking of moving to the area, be sure to check out two additional resources on Great Vancouver Homes: an article similar to one you're reading now about moving to Vancouver, WA and all the homes for sale in Vancouver.

Downtown Portland on a Crisp Fall Day
The Northwest Friendly Attitude
Portland is known for being a friendly town where people are nice to strangers. Living in Portland means your Uber driver will probably expect you to sit in the front seat. (You might even hurt their feelings if you don't.) People smile, wave and chat with strangers.
New Yorkers moving to Portland will need an adjustment period to get used to friendliness without an ulterior motive. Portlanders aren't being nice to take advantage of you; they just think it's normal to be less guarded. You'll find that people with "Type A" personalities in Portland are a little more relaxed than other parts of the country.
Undoubtedly, you will see a lot of hipsters. Of course, the first rule of being a hipster is to deny it if accused of being one. Outwardly expressing your hipster credentials through the clothes you wear? Cool. Verbally identifying oneself as (or admitting to another's accusation of) being a hipster? Lame.
The first rule of being a Portland hipster: don't talk about being a hipster. The second rule: hang out in bars that have a smoking patio, out-of-season Christmas lights and serve Pabst Blue Ribbon. Why "rules"? Because Chuck Palahniuk authored Fight Club while living in Portland and working at Freightliner. ("The first rule of Fight Club is...")
Portlanders eschew dress codes; people wear whatever they like. You can be yuppie or hippie, and it won't matter. You can even be both at the same time. Try a Gucci dress with a top hat. People might stare, but you're also likely to get a compliment.
If you're moving to Portland, be sure to buy a Gore-Tex (or any waterproof fabric) jacket. Not only will it keep you dry, but you'll fit in with the outdoorsy-types, of whom there are many. After a while, you'll realize that just about everyone has an outdoor hobby. Your friends and co-workers will be skiers, hikers, climbers, cyclists and windsurfers.
Portland Lifestyle
Portlanders pick the neighborhood in which they live based on their lifestyle. Some folks prefer a cosmopolitan vibe with as many nearby amenities as possible and some prefer to liver farther out, in as rural setting as possible. Some are happiest somewhere in between. What is the best Portland neighborhood for you?
Generally speaking, PDX is a progressive city. Like most cities on the West Coast, the majority political ideology is left-of-center. Inclusive and progressive events, like Pride, are well-attended. That's not to say political conservatism does not have a voice here. You can spin the radio dial easily find a highly-rated, local conservative talk show.
Respect for the environment is strongly encouraged. Recycling is the norm and has been for decades. Plastic bags are banned. Caring about the environment is assumed, and not doing so (littering, carrying groceries in plastic bags) is frowned upon.
Are you a vegan who only uses beauty products with earth-friendly ingredients? You'll discover that finding alternative products is easier living in Portland. Looking for locally-grown, organic produce? There's a good chance you'll find some nearby because there are 21 farmer's markets in Portland, Oregon from which to choose.
Being weird here is part of the Portland mystique. And we can prove it. Take a look at Portland's Unipiper, a unicyclist dressed as a Scottish Darth Vader who plays the theme to Star Wars on bagpipes. (As one does.) You can see him do his thing in front to a "Keep Portland Weird" mural in this video.
The Food Scene in Portland
James Beard (1903 - 1985) was born in Portland and his final resting place is in nearby Gearhart, Oregon. When a Portland chef receives the James Beard Award, it takes on special meaning given Mr. Beard's roots here. James Beard was the champion of American cuisine and also gay. Fittingly, the life of this iconic chef embodies two core Portland values: love of good food and openness toward others.
High Quality
The overriding theme of eating and drinking in Portland is summed up with one word: quality. Living in Portland means you'll soon make adroit use of words like locally-grown, organic, heirloom, artisanal, small-batch and craft-brewed. People go out of their way to escape the grasp of mass consumerism. The payoff is that living in Portland gives you access to one-of-a-kind food experiences.
While the best restaurants in town may be high-end, the vibe here is relaxed. Emphasis on food quality and experimentation trumps any dress code. Portland is gaining recognition for its plethora of food carts and menus full of locally-sourced ingredients (to locavores' delight). A chef here could write a business plan around two core principles: local and portable.
Brunch in Portland is popular, especially during the winter when people need to break their cabin fever from staying indoors too much (which is why breakfast is also big in Seattle). Expect to wait in long lines. Some restaurants have coffee or drink service for folks waiting in line; which becomes a scene of its own. Because...it's Portland.
Beer and Spirits in Portland
According to Craft Beer Guild, Oregon is #1 in the United States for breweries per capita. There are 105 breweries in the Greater Portland area, and they are serious about making good beer. You'll find at least one brand of local beer at your favorite watering hole.
A local brew pub chain, McMenamins, owns and operates bars, movie theaters and even hotels. They have a knack for converting historic properties into charming restaurants and pubs. They brew their beer, distill liquor, operate a winery and even roast coffee beans.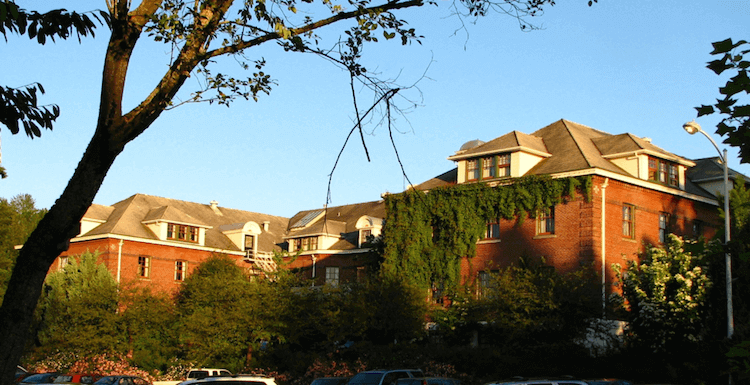 McMenamins Edgefield
Cocktails and ambiance are also taken seriously in Portland, even when it seems like the opposite is happening. You may be sitting in a place that appears silly, and ordering a drink with a silly name, but that drink's going to be prepared thoughtfully with top-notch ingredients.
Portland Weather
If you're moving to Portland from somewhere sunny, you can expect a major mental adjustment. It rains a lot. The Northwest is known for its drizzle, a mist that lasts the whole day long, a persistent wall of moisture some would say is not rain at all. When it's not precipitating, you can still expect overcast skies for most of the year. Locals would describe the four seasons this way:
Fall
Early fall is an extension of summer; sunny days still come around, but temperatures start cooling. Saturday youth soccer games can be filled with sunshine and crisp air or it can be rainy and breezy. You'll need a jacket for Halloween trick or treating.
Winter
Winters are cold, overcast, grey and rainy. But, not as cold as the Northeast United States. Portland may get a couple of days of snow (measured only in inches) each year or none at all. Neighborhoods and smaller cities east of Portland can get rather icy. That's where frigid air masses, originating from the Eastern Washington and Oregon, blow through the Columbia River Gorge, emptying into the Willamette Valley.
Spring
Spring is rainy, but the days start to get longer wherein the extra daylight creates anticipation for summer. Plants start budding in late February, a teaser for things to come. Spring unfolds very slowly in the Northwest; it takes forever, months and months.
When spring hits its stride in May, Portland is colorful and picturesque. The "Rose City" earns its moniker in spades; there are roses everywhere. Trees and bushes bloom, too! Eventually, the petals expire and pile up like colorful snow in the streets. If you're into this kind of thing, you'll find it dreamy.
Summer
Around the 4th of July, Summer kicks in. Plants are in full-bloom, and deciduous trees are leafy and verdant. Daylight hours in the summer are long (due to Portland's latitude, which is just slightly higher than 45° North, which is the halfway point between the North Pole and The Equator).
Summers in the Northwest are mild compared to the rest of the country, but temperatures are known to occasionally reach the 90's. Often, overnight clouds gather above area rivers. The morning cloud layers usually burn off by early afternoon.
Portland Weather – Annual Averages
Portland's climate is mild. According to U.S. Climate Data, the annual average high temperature is 63.3°F and the annual average low temperature is 45.7°F.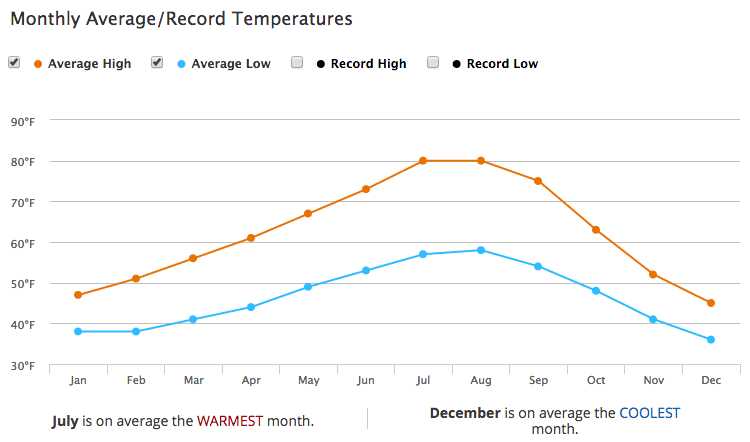 Portland Average Temperatures
Living in Portland means enduring a lot of rain and cloudy skies from October to the end of May and even a little during the summer. Portland averages 42 inches of rainfall each year. You can also expect 155 days each year wherein some measurable amount of rain falls.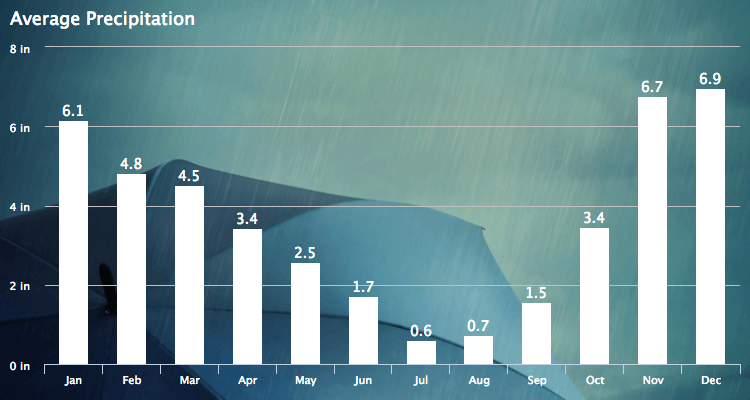 Portland Average Rainfall (Data: Weather.com)
Things to Do in Portland
Go Outside
Portland has 11,697 acres of parks, including Forest Park, which is the United States' largest urban forest, at 5,157 acres. With 70 miles of trails, it's a hiker, mountain biker and runner heaven. Other parks in town include a golf course, swimming pools, picnic areas and off-leash dog areas.
In the summer, you can float the Willamette River or enjoy several fountains and splash pads all over the city to cool off on hot days. A few parks offer beach areas. Yep, Portland has beaches, even downtown in Tom McCall Bowl Beach. Just be careful not to step on any goose droppings!
Voodoo Doughnut has a reputation for unusual doughnuts, eclectic decor, iconic pink boxes, and their saucy tagline, "The Magic is in the Hole." But wait, isn't that an indoor activity?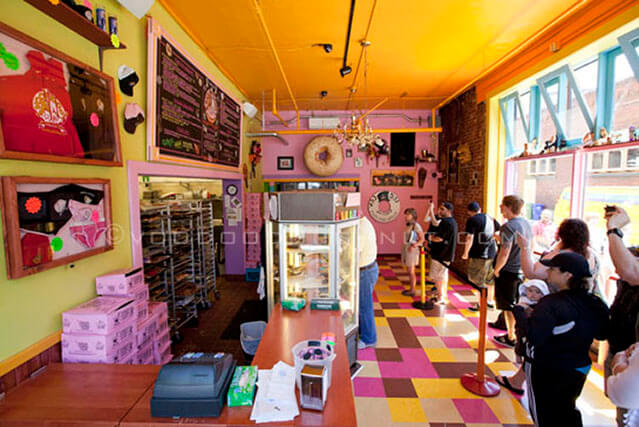 (Photo: Voodoo Doughnut)
Not necessarily. The downtown location is right around the corner from Old Town's Ankeny Alley. It's an open-air, pedestrian-only street filled with tables under dreamy twinkle lights. Several bars and restaurants line the cobblestone block. Customers can enjoy treats from wherever they please and sit together at the street tables.
Stay Inside
When it rains, outdoorsy folks throw on their waterproof, Gore-Tex jackets and brave the weather. For everyone else, there's plenty of indoor activities to keep busy.
Do you think ebooks have killed the printed word? You'd never know it if you visit Powell's Books, the world's largest independent bookstore. The store occupies an entire city block and is home to 1 million books. You can spend hours on a rainy Saturday perusing all the titles. It's hard to leave without buying something. You can even sell your old books for cash or double your bounty for store credit.
As you'd expect in any city, shopping can also fill a gray, misty afternoon. Downtown, near Pioneer Courthouse Square, is the place to go. While you're there, check out Columbia Sportswear's flagship store.
With Kids
Living in Portland with kids can be a museum-filled one. The Oregon Museum of Science and Industry (OMSI), is one of the most beloved places in town. It's geared to educate and inspire kiddos, but OMSI After Dark events include science fun for adults. Plus, they serve spirits just to keep it interesting.
The Oregon Zoo has been a family favorite since 1888. It's the oldest North American zoo west of the Mississippi. The Portland Children's Museum is right next door, so pack up the family and make a day of it! For a more lively afternoon, visit Oaks Park, a kid-oriented park with amusement rides, roller skating and miniature golf.
Art & Culture
Portlanders love art. Even the City of Portland allows street art and murals. In fact, they issue Original Art Mural permits, "[to] encourage original art murals on a content-neutral basis on certain terms and conditions. Original art murals comprise a unique medium of expression which serves the public interest."
For fine art, there are dozens of art galleries across the city. You'll find a high concentration in downtown's Pearl District. Three monthly art walks give anyone living in Portland an opportunity to have a look at the latest work from local artists. First Thursdays, put on by Portland Art Dealers Association (PDA), happen in the Pearl District. First Fridays are a little more spread out, hosted by Central Eastside galleries. In the summer (June, July and August), there is an arts showcase on the last Thursday of each month on NE Alberta Street.
Check out a few other artsy favorites like Portland Art Museum (visual arts), Oregon Symphony (popular and classical music) or Portland Center Stage (classical and contemporary plays).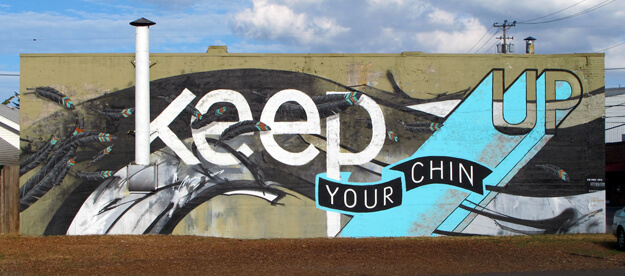 (Photo: Fontana Studios)
Portland's Sports Teams
If you're moving to Portland from a major U.S. city and love going to professional sporting events, you'll find the options here limited. There's no NFL team. Nor will you enjoy summertime beer and hot dogs at a Major League Baseball game.
In some regards, that's okay. With few professional sports teams in town, Portlanders rabidly huddle around the Timbers (men's soccer), Thorns (women's soccer) and Trail Blazers (basketball). In a world of fragmented media, with 500 cable/satellite channels of niche programming, having a small number of pro teams in town is a good thing. This limitation creates common, shared experiences with friends and co-workers. When you have only a little, you share a lot. Portland is the kind of place where old fashioned water cooler talk about sports is still a thing. Sports fans here are on the same page.
Things to Do Near Portland
Columbia River Gorge
Head up the river from Portland, due east, and you'll start wedging your way through the steep walls of the Columbia River Gorge. There are 77 waterfalls and countless hiking trails to explore, nearly all of them with breathtaking views.
Crown Point
Mount Hood
Keep heading a little farther east, into the Cascade Mountain Range, and you'll be greeted by Mt. Hood. Skiing and snowboarding are popular wintertime activities in the Northwest. Timberline Lodge and Mt. Hood Meadows are the closest ski areas to the city, about 1.5 hours by car.
Wine Country
Hop in your car and explore the Willamette Valley, best-known for Pinot Noir wine and home of world-class wineries. The soil, climate and latitude (45° North) compare to France's Burgundy winemaking region.
Oregon Coast
Drive 1.5 hours west of city and you'll find yourself on the Oregon Coast, a safe bet for summer fun. Enjoy the beaches and surf or, if it's a cloudy day, hang out in a local brew pub or tour the Tillamook Creamery.
Portland Schools
Portland Public Schools serve 49,000 students and operate 78 schools. Key information about the school district (including an up-to-date progress report) is found on their District Overview page. Schools include:
28 elementary schools
29 K-8 schools
10 middle schools
10 high schools
1 K-12 schools
GreatSchools rates Portland schools a "6" on a 1-10 scale, which is average. As you'd expect in any city, a few gems can be found. Here are a few standouts:
If you're a mid-career professional looking to boost your market value with a graduate degree, then you'll be pleased to know Portland is home to several universities.
Jobs in Portland
Much like the rest of the West Coast, technology startups are a "thing" here. They've even earned us a new moniker - because we don't have enough already - Silicon Forest. The quality of life in the Greater Portland area also draws in established companies like Intel, the largest employer in town at 18,000 people. WaferTech and Mentor Graphics are close by.
Apparel design and manufacturing is big deal here. Portland is home to Nike World Headquarters and Adidas North America. We've also got Columbia Sportswear, Keen, and Dr. Martens' US Headquarters. You can even keep all your shoes and garments organized with containers made by Portland-based Storables.
Top employers in manufacturing include Daimler Trucks North America, Boeing and Precision Castparts.
The hospitals, OHSU, Kaiser, and Providence Health employ 40,000 people among them. Food service and tourism-related industries also contribute to Portland's diverse and vibrant economy.
Transportation
Portland's public transportation agency, TriMet, operates the area's highly-acclaimed light rail system called Metropolitan Area Express (MAX). MAX spans the entire city of Portland, primarily on an East/West axis. Getting from the Portland International Airport (PDX) to downtown is quite easy. MAX light rail runs every 15 minutes.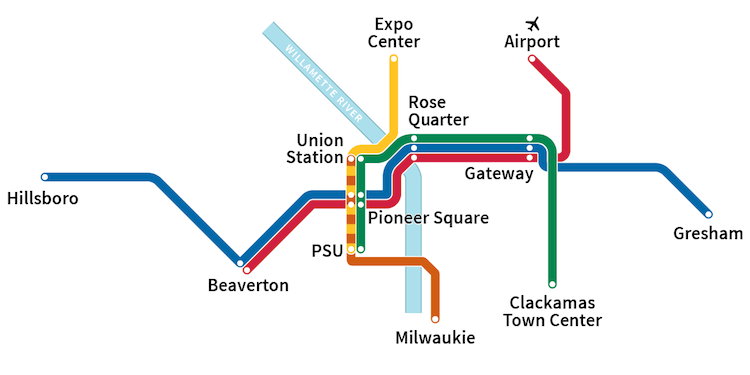 Portland's MAX Lines
TriMet also has a top-notch bus system, with most buses running every 20 minutes during busy hours. Street cars frequently run all over downtown. Conveniently, one ticket is good for all three modes of transportation (light rail, bus or streetcar).
Commuter biking is popular in Portland, also known as "Bike City U.S.A." Seven percent (7%) of Portlanders commute to work by bicycle, making up the nation's highest percentage of bike commuters. Many larger employers even have showers for employees who take advantage of 315 miles of bikeways to get to work. TravelPortland offers a lot of helpful information about getting around PDX by bike.
Tilikum Crossing is the first major bridge in the U.S. designed for transit vehicles, cyclists and pedestrians but not cars.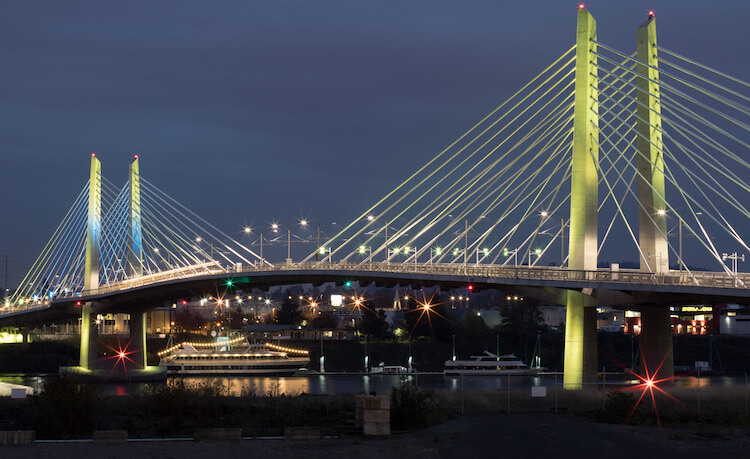 Tilikum Crossing at Night
You know a city dubbed "Bridge City" is bound to have some traffic issues. If there's a lot of expected ship traffic on the Willamette River (like during the days leading up to Fleet Week), you'll want to check conditions ahead of time and plan appropriately.
The public transportation in Portland is comprehensive and easy to use. If you're moving to Portland, and have ever fantasized about ditching your car, you can get around this city and live pretty comfortably without one. If you need a car just for a day or to get out of town for a weekend, you can always use a car sharing service like Zipcar or Car2Go. Your car-free dreams could come true!
Annual Events in Portland
Portland's most notable annual event has to be The World Naked Bike Ride which takes place every June. The ride is exactly what it sounds like; thousands of people ride in their birthday suits across town!
The biggest event is the annual Rose Festival which spans both May and June each year. The Rose Festival has three big parades, several runs/walks, concerts, amusement rides and a fireworks display over the Willamette River. Since 1907, the Rose Festival gives Portlanders an annual call-to-action: brush off your winter blues and get into the summer spirit!
Portlanders keep busy all year long. Here are several annual events that might pique your interests.
Interesting Facts About Portland
Portland was once known as "The Clearing." Asa Lovejoy and Francis Pettygrove flipped a coin in 1845 to determine the city's name. Lovejoy, from Massachusetts, wanted to name the new settlement Boston. Pettygrove, from Maine, wanted to name the new town Portland. Pettygrove won.
Portland's past includes some shady episodes. Alcohol sometimes literally poured into the streets, and from brothels no less. Drinkers would routinely get kidnapped, or "Shanghai'ed" and would wake up on a sea vessel where they were then forced to work. Rough night!
Thirsty? Portland is home to over 60 craft beer breweries.
Prefer water? Portland has 52 bronze drinking fountains, known as "Benson Bubblers." Refreshing, clean mountain water from the Bull Run watershed pours out of them 365 days a year.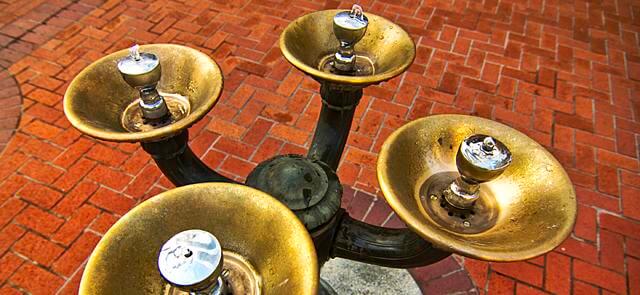 Benson Bubblers (Photo Courtesy Portland Water Bureau)
Downtown Portland sports several fountains. A few of them have statutes of Northwest animals in them. Every winter the statues are yarn-bombed with ugly Christmas sweaters.
After moving to Portland, visit Pioneer Square downtown, near the Starbucks. On the ground level, find the round gold plate on the ground. Stand on top of the place, facing directly into the mini amphitheater and speak. It's an echo chamber!
Portland is one of four cities in the United States to have an extinct volcano within its boundaries: Mt. Tabor. If you drive 1.5 hours north of the city, you can visit an even bigger active volcano, Mt. St. Helens.

Looking Into the Crater of Mt. St. Helens
If you're moving to Portland, you'll have to get used to the idea of someone else refueling your vehicle. Oregon and New Jersey are the only two states where it is illegal to pump your own gas.
Portland is hometown to Matt Groening, creator of The Simpsons. If you're a fan of the show, you may recognize street names like Lovejoy, Burnside, Kearney and Quimby – along with the city of Springfield, OR.
Shoppers will love the fact that Oregon doesn't have a sales tax at the point-of-sale. However, if you imbibe in spirits from time to time, you'll pay the second highest alcohol taxes in the United States.
Portland bears several widely-used nicknames:
Rose City (official city nickname) or City of Roses
Puddletown (because it rains a lot)
Stumptown (deforestation, due to rapid city growth around 1847, left many stumps behind)
PDX (call sign for Portland International Airport)
Bridge City (there are 12 bridges across the Willamette River)
Rip City (named after a three-point play made during the Portland Trail Blazers' first season)
P-town (colloquial)
Final Thoughts: Moving to Portland, Oregon
Portland is a big enough city to provide its inhabitants with cultural, culinary and artistic activities. It's also small and quirky. The unusual clothes you wear or color of hair dye you use will set you apart and ensure that you fit in at the same time. If you love all four seasons, you may find the climate here agreeable. If you are sun worshipper, you will find it lacking. One thing is for sure: living in Portland means you're never far from a good hiking trail, beach, ski slope or a winery. Your sense of adventure and willingness to explore will be rewarded.