Moving to Seattle? Here's What Living Here is Like.
Posted by Tony Mariotti on Tuesday, September 27, 2016 at 7:31 AM
By Tony Mariotti / September 27, 2016
Comment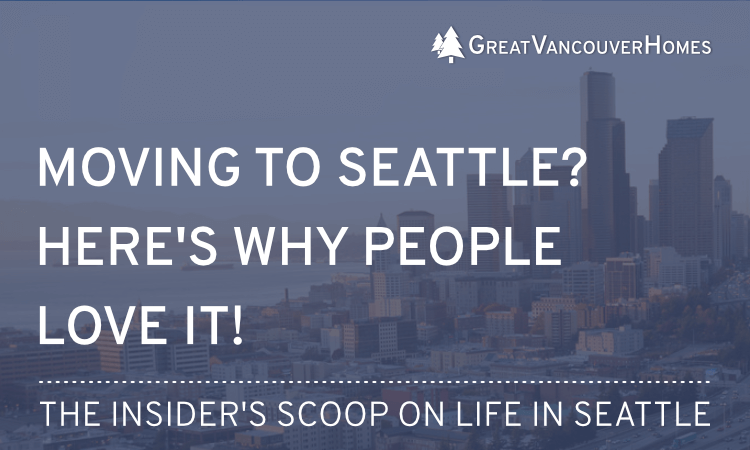 Living in Seattle is great, just ask anyone who lives here. Sure, they'll complain about the rain, traffic and graffiti, but they have no plans to leave anytime soon. In fact, more people are moving to Seattle each year; the U.S. Census places Seattle fourth for growth among the 50 biggest U.S. cities. While Seattle is similar to many other large cities, it remains one-of-a-kind for many reasons. Let's see why this place is so unique.
Seattle Weather
If you ask people about moving to Seattle, in all likelihood the topic of weather will come up first. The weather here has a way of affecting every aspect of living in Seattle. From the rain, all other things flow. Rain not only shapes the area's natural beauty, but affects its culture.
Rain Creates Natural Beauty
The Emerald City (get it? emeralds are green!) and the surrounding Puget Sound region get a steady supply of water falling from the sky. On days when the rain stops and the low clouds burn off, this is one of the most beautiful places in the country. Breaks in the weather "lift the curtains" and reveal views of verdant forests and majestic mountains. Clear skies are responsible for the quintessential Northwest saying, "The mountain is out."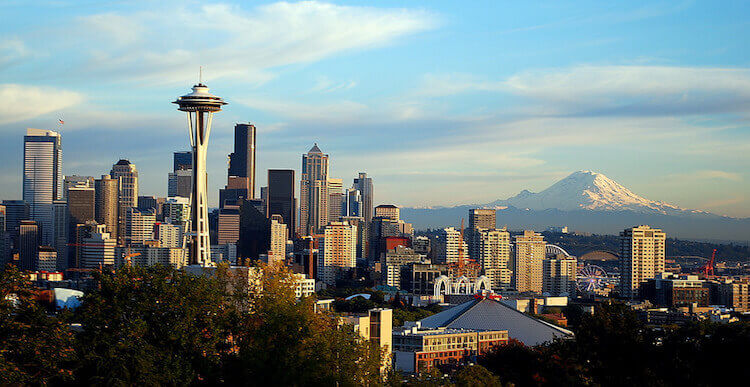 Downtown Seattle and Mt. Rainier (Photo: Joe Wolf)
Rain is the reason you'll find massive Douglas Fir trees growing in your backyard. Giant trees are so common in the Northwest that Seattleites forget just how unusual it is to have millions of monster trees surrounding the city and dotting the landscape. You'll definitely notice the forestation if you're moving to Seattle bigger cities like New York or Los Angeles. At some point, you might say to yourself, "Holy crap, I have a 200-foot plant shooting out of my lawn. How weird is that?"
Rain Infuses Northwest Culture
The weather in the Northwest is one of the reasons people congregate with friends for breakfast on weekend mornings at local cafes (to get out of the frigging house)! One could argue that gray skies were the fundamental psychic force behind grunge music, a dark flavor of rock 'n roll that grinds like a distant, distorted fog horn. Wet weather defines the way people dress, covered from head to toe in waterproof gear.
The weather may very well be responsible for all the pent up energy released as extremely loud cheering (enough to set Guinness World Records) at sporting events. Tourists have been tricked - by only visiting Seattle during the sunny summer months - into believing that all those stories they've heard about cloudy skies and rain here were untrue.
Living in Seattle means forgoing the use of umbrellas except for the rare days when the rain comes down in buckets. Most days, the rain here just drizzles. If you see someone with an umbrella, they're probably not from around here. Umbrellas "give away" tourists the same way wandering around Times Square wearing an "I love New York" t-shirt would. If you're planning on moving to Seattle, the impulse to grab an umbrella on the way out the door may get re-wired.
Seattle Weather - Annual Averages
The annual average high temperature is 58.8°. The summer months are very pleasant; Seattle is usually one of the coolest spots in the country when the heat rises everywhere else. It's also one the warmest (45.1° average low temperature) when the rest of the country is in a deep freeze. Count that as a positive tradeoff for the rain.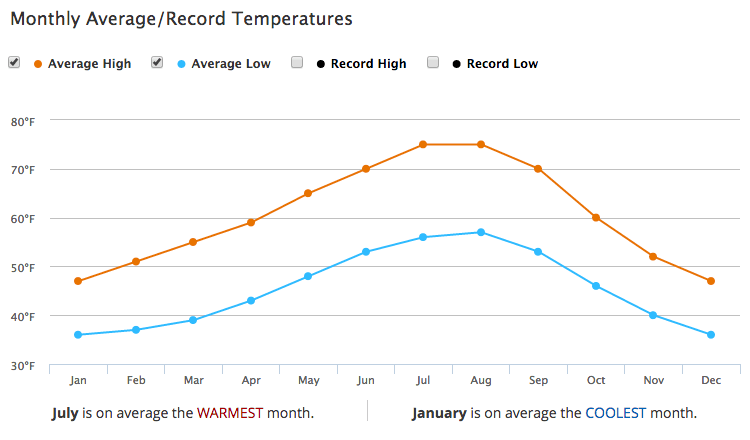 Seattle Averages Temperatures
Expect rain each and every month of the year, no exceptions. There's an old saying around the Puget Sound area, "It always rains on the 4th of July." Some years, you'll find yourself watching fireworks explode from inside low clouds. According to the US Climate Data, Seattle's cloud cover and rainfall look like this:
152 days of rain per year
34.1 inches average annual precipitation
2,019 hours of sunshine per year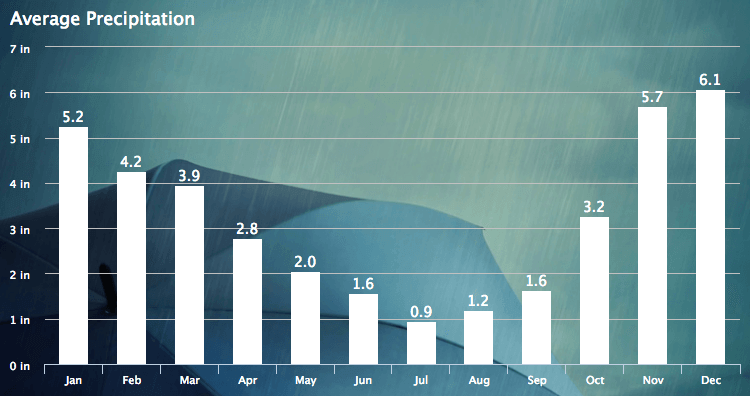 Seattle Average Rainfall
Seattle Lifestyle
Coffee
Caffeine here is as inescapable and undeniable as the clouds. And, rain might be the reason why Seattle is ground zero for the nation's coffee culture. One study suggests that Seattleites consume more coffee than any other city in America:
35 coffee shop locations per 100,000 residents
$36 average spent per month for coffee
You may already know that Seattle is home to Starbucks. And they have 104 store locations in the city alone, including the Roastery and Tasting Room and one 24-hour drive-thru. But that is just Starbucks; there are many smaller chains, independent coffee shops and stands throughout the city. Some local favorites include Caffe Vita, Espresso Vivace and Victrola Coffee Roasters.
Seattle is also the home of the "bikini barista" where some stands feature scantily-clad "baristas" offering peek-a-boo views with their lattes or worse. Law enforcement has cracked down on such locations, but many still exist which has led to the rise of "family friendly" stands as well.
If you're living in Seattle and get the urge for serious coffee-making on your own, you'll find the right equipment, friendly service and many "how to" videos from Seattle Coffee Gear. They'll point you in the right direction, and in no time, you'll be a master barista pulling "God shots" at home.
Seattle is Dog-Friendly
Dogs are some of the most important "people" in Seattle. In what used to be a no-no with the exception of "working dogs," today, some businesses allow their employees to bring their pups with them to work. A more controversial trend, some businesses allow customers to bring pooches with them to shop. Even some restaurants are making this allowance. While not everyone in Seattle is thrilled with this kind of lax "dogs everywhere" attitude, they are overruled by those who are giving this practice a rating of "two paws up."
Every park in Seattle allows dogs as long as they are on a leash and at least 14 of them offer off-leash sections. Enthusiastic owners treat their dogs like children, even purchasing dog strollers and special backpacks to carry their pups. Seattle has indoor dog parks, too. We have "doggie day care" centers and Dogwood Play Park goes one step further; it's a dog park and a bar. Humans get beer, wine, snacks, free wi-fi and board games. Dogs get to run around and blow off some steam. Here's a tennis ball machine in case Fido needs a new one: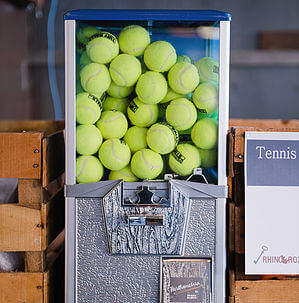 Handy Tennis Ball Dispenser
Seattle is Environmentally Conscious
Grocery and variety stores encourage patrons to bring reusable bags. Plastic bags are no longer available, and if you want a bag from the store, you can get a paper one that costs a nickel per bag.
You can recycle anything here now, though you might have to drive to a drop-off location if the item is a computer, large appliance or contains mercury.
Organic foods are widely available, too. Organic products are so popular here that more choices are available than ever before, and prices are gradually becoming more reasonable.
Seattleites are Well-Read
Based on Amazon's sales data, Seattle consistently ranks as America's #1 of The Top 20 Most Well-Read Cities. Oh, by the way, Seattle is also home to Amazon's headquarters.
Community support for reading rolls deep. The downtown Seattle Public Library is a taxpayer-supported, 11-floor, 362,987-square-foot glass structure in the heart of the city. It is a massive, modern building. In 1998, Seattle voters (and donors) put together $291 million to build the downtown branch and renovate the entire library system.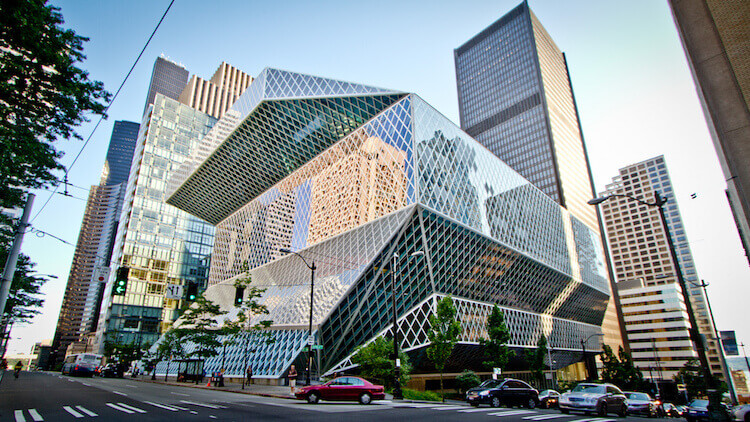 Seattle Public Library (Photo: Nicola)
Seattle Traffic is Gnarly
There is no way to sugarcoat this. The traffic in Seattle will test your patience; it is terrible. However, the City of Seattle and the State of Washington have been reasonably good over the last few decades at managing Seattle's growth and continue to make transportation improvements. In general, the closer one lives to the center of the city, the better the options.
Within the city, newer light rail lines are becoming quite popular and will typically get you where you need to go in quick fashion. Other options to get around town include Metro buses or one of the downtown trollies. There are some Zip Car rental locations if you only need wheels once and awhile.
If you're moving to Seattle and plan to live in the suburbs, the Sounder train is easy and, by far, the most relaxing trip you can take in or out of downtown. Plus, there are some beautiful views to go along with the ride. However, it's not as fast as most folks would like. There are several "park and rides" along I-5 which give commuters an extra option to park and take the last leg of their journey into the city via bus. If you can travel outside of peak commuter times, you can get in or out of downtown fairly quickly. That's just not an option for everyone.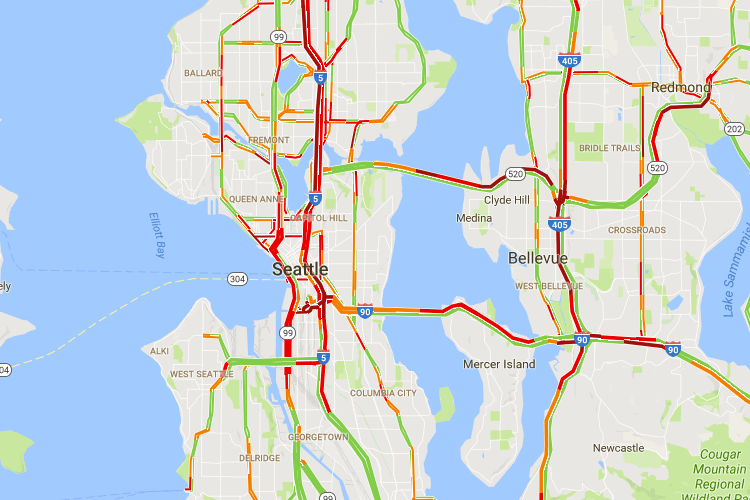 Typical Evening Commuter Traffic in Seattle
Seattle Food Scene
Seattle chefs and entrepreneurs continually add to Seattle's food scene, from expensive high-end fare to tasty, cheap eats. Food trucks are increasing in popularity here.
Seattle and Portland both handle breakfast with élan; Northwest cities have historically excelled at providing a sufficient number of breakfast joints from which to choose. As mentioned above, breaking long stretches of staying indoors (cabin fever) during the gloomy months of winter is a good thing. Weekend mornings spent at a café, gorging on waffles, eggs and bacon are the prescriptions. Time spent playing with your dog outside and a little hiking help, too.
I still refer to Seattle as a "quaint fishing village" which is a backhanded compliment. While Seattle has grown up and become a more world-class city, it hasn't lost its charm or the ability to get seafood right. Seattle is the place to get a killer basket of battered cod fish 'n chips, oyster shooters, or salmon filets. A plate of local steamer clams with garlic bread can cause your eyes roll into the back of your head.
East Coasters have White Castle. Californians have In-N-Out Burger. The local favorite for burgers in Seattle, hands down, is Dick's Drive-In. The Dick's Deluxe comes with two patties and sweet tartar sauce. The perfect compliment to any Dick's burger would include an order of their distinctly oily and salt-drenched French fries. And maybe a milkshake.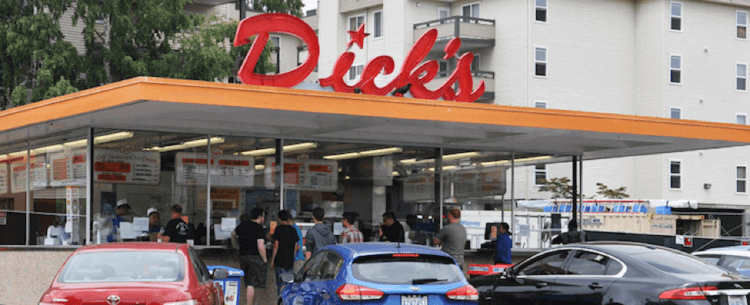 The Northwest is the real home of the craft brewing industry in the United States. Today, the scene is prolific with artisans micro-brewing everything from beer to wine, tea and coffee. Anything that can be smashed and liquefied is a candidate for small-batch brewing. Alternatively, hit any smoothie joint that dots Seattle neighborhoods when you're in the mood for something healthy.
Seattle School District
The Seattle School District is the state's largest that serves at least 53,872 students each year. The school system includes:
60 elementary schools
10 K-8 schools
10 middle schools
12 high schools
6 service schools
GreatSchools gives the district an overall score of 9 out of a possible 10. The high school graduation rate varies from 76% to 90%. As you would expect in any large U.S. city, private schools are also an option.
Seattle is home to three Universities and numerous community colleges.
The University of Washington is the largest. And it's the hardest to get into with a 55.2% acceptance rate. U of W's total undergraduate enrollment is just over 30,000. The campus is huge; it covers 703 acres and reaches the shores of the always-gorgeous Lake Washington. Bubble gum, vinyl, synthetic rubber and color TV tubes were all invented there and the Husky Stadium is known for having the loudest crowds in college football.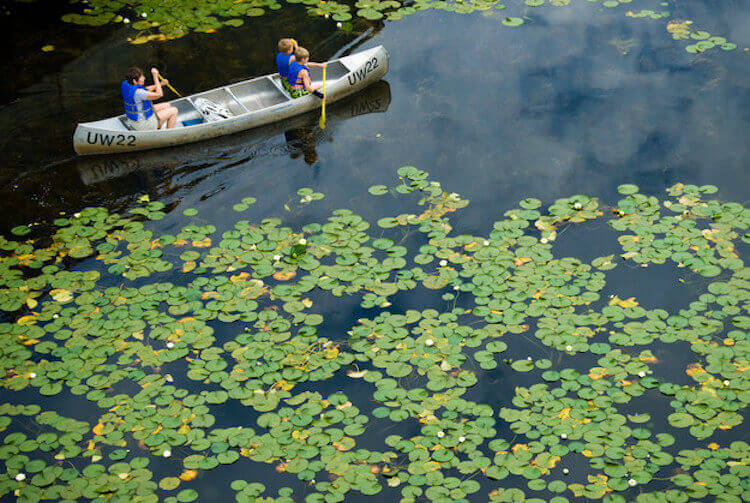 UW Canoe Rentals on Lake Washington
Founded in 1891, Seattle University sits atop Capitol Hill and has a total undergraduate enrollment of 7,200 with an acceptance rate of 73.2%. The average class size is just 19 students with a student-to-faculty ratio of 13:1. It offers 64 undergraduate programs, 31 graduate programs and 28 certificate programs.
Seattle Pacific University was also founded in 1891. It is a Christian university with a total undergraduate enrollment of just over 3,200 with an acceptance rate of 72.1%. The campus covers 43 acres and represents 50 different Christian denominations. The student-to-faculty ratio is 15:1.
Things to Do in Seattle
Seattle Parks
If you like to get outdoors but can't get out of town for the weekend, living in Seattle still gives you access to a variety of worthwhile parks. The Seattle Parks and Recreation Department maintains over 400 of them! Most parks having adequate playgrounds for children and are dog-friendly.
Biking/Cycling in Seattle
Seattle is fit for both commuter biking and recreational cycling.
If you ride a bike as a means of commuting, then you will love the recent changes to downtown Seattle as the city has installed a few "biker only" lanes painted bright green as well as clearly marking routes that cars must share the roads with bikes. There are also many locations in the city where you can rent a bike using Pronto Cycle Share.
If you want to go cycling for recreation, hit the Burke-Gilman Trail, a 27-mile, multi-use trail cutting across the north side of the city. The trail makes up a significant part of Seattle's overall 98 miles of signed routes.
Explore Downtown by Foot
Walk Score has given Seattle a high walking score stating that the city is the 8th most walkable large city in the United States. Downtown Seattle features a 98 (out of a possible 100) score along with a 100 transit score and 67 bike score. Most errands of those living in downtown do not require a car; there are about 783 restaurants, bars and coffee shops all clustered in the downtown area.
Touristy Places
Of course, if you're moving to Seattle, you'll probably spend your first year here checking out some of more "touristy" places. Like all large cities, Seattle is home to iconic attractions and landmarks, the Space Needle being the obvious one. But did you know the Needle sits in the middle of the former location of the 1962 World's Fair? Over the years the park that surrounds the Needle, Seattle Center, has had its ups and downs, but today, it is looking its best.
Seattle Center is home to the Pacific Science Center (with two IMAX theaters), the Seattle Children's Museum, the Chihuly Garden and Glass Museum, The Key Arena, The EMP pop culture museum and more. Large grassy areas in-between the buildings accommodate a few large art sculptures. There is the large interactive water fountain, food court/event building and a monorail that travels swiftly to downtown.
Seattle's waterfront is home to the iconic Pike Place Market, one of the oldest farmer's markets in America, founded in 1907. You may know the famous fishmongers who put on a show by throwing whole fish around, sometimes even to their customers! The market is a collection of stalls that house over 85 farmers with their fresh produce and 225 artisans selling their craftwork. If you dive further beyond the stalls, you will find larger shops that carry unique gifts as well as sit-down restaurants.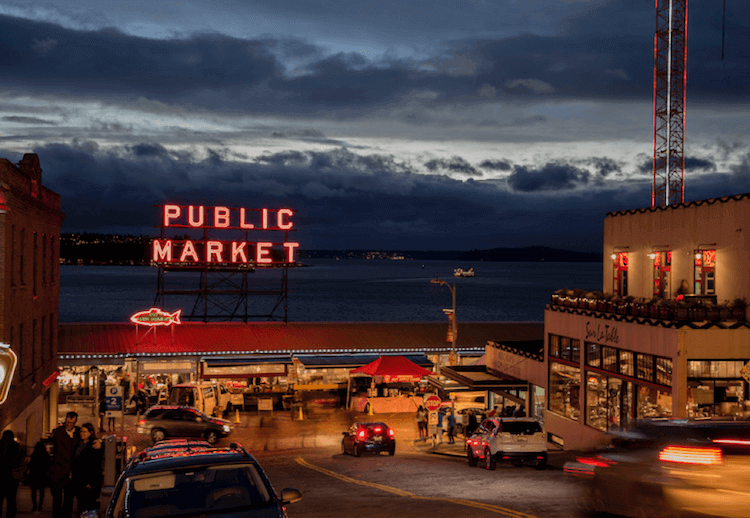 Pike Place Market (Photo: Tiffany Von Arnim)
Just below Pike Place Market, Pier 57 is home to Seattle's Great Wheel and the new Wings Over Washington "flying theater" ride across from the Seattle Aquarium which sits among shops and restaurants.
Families with kids and animal lovers will appreciate the Woodland Park Zoo. Since 1899, the zoo protects animals and their habitats through conservation leadership. Most of the animals live outside of cages in their mock habitat. The zoo offers educational experiences for humans.
Seattle also offers a more curious way of experiencing the city, the Duck Tours. Guests ride in amphibious vehicles that drive down the street and then sail on the water, all the while being entertained by a wise-quacking guide (pun intended). Another offbeat expedition includes Bill Speidel's Underground Tour that takes guest under the city for a 75-minute tour of the formerly above-ground section of town.
Art in Seattle
Seattle has a fine art scene. Every weekend, numerous live theatre productions are performed all across Seattle including the 5th Avenue Theatre that is sometimes used as a training ground for many new Broadway shows. The Seattle Symphony, the Pacific Northwest Ballet and Seattle Opera are three of the longest performing arts centers in Seattle.
You'll also find unique experiences including dinner theatres like Teatro ZinZanni, The Triple Door and a host of museums. Why it may be cliché to say, there is a little something for everyone in town from family-friendly fare programs to shows one can only describe as "suitable for adults."
Pioneer Square is home to America's first Art Walk which began in 1981. On every first Thursday of the month, from 6 pm to 8 pm, local galleries display new exhibitions and artists. In Occidental Square, local artisans set up booths and sell ceramics, jewelry, prints, and more.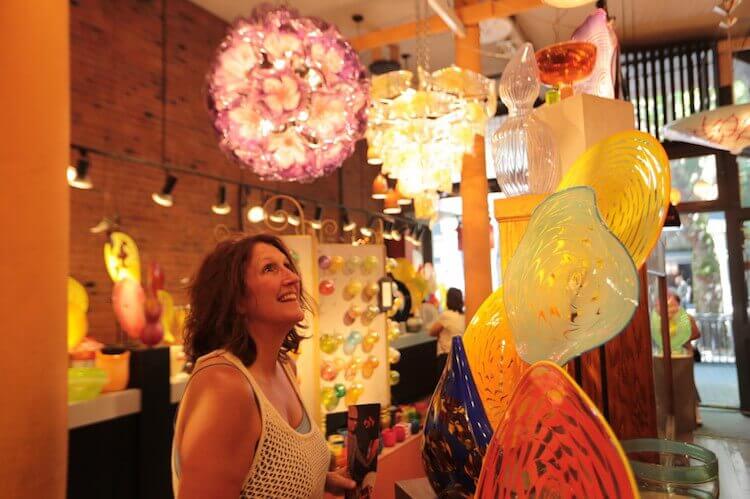 Exploring Art Galleries in Pioneer Square
Things to Do Near Seattle
Outdoorsy people love living in Seattle given its proximity to so many activities like hiking, fishing, skiing, climbing, cycling, etc. It's no coincidence that Seattle is home to Recreation Equipment Inc., better known as "REI." If you're moving to Seattle and don't currently own any GoreTex clothes, odds are you'll be spending some dough on new gear within a few weeks of living in Seattle.
Take a Hike
When it's time to get out of town, dodge city traffic and make your weekend escape, you'll have a lot of local options for fun and exploration nearby.
Washington State is home to 186 state parks and 3 national parks. The most impressive and well-known, of course, is Mount Rainier National Park which is about an hour and 41-minute drive away from Seattle. The mountain stands 14,410 above sea level and is the most glaciated peak in the U.S. and feeds six major rivers. The park is open year-round and is a favorite hiking destination from the casual day hiker to serious mountain climbers.
It takes a little over two hours to reach the North Cascades and Olympic National Parks. The North Cascades Nation Park Complex features everything from a wet rain forest to the dry ponderosa pines with 1,600 different species of plants in-between. The Olympic National Park stretches out over 70 miles of coastline that feature glacier-capped mountains and old-growth rain forests.
Local Northwest Trip Ideas
Ride a Ferry or fly in one of Kenmore Air's seaplanes to the San Juan Islands
In the spring, check out the Skagit Valley Tulip Festival
Ski the Cascade Mountains
Watch water drop 270 feet over Snoqualmie Falls
Spend a weekend with our Canadian neighbors in Victoria or Vancouver, BC
Drive a few hours south and check out Portland, Oregon
Take a chartered fishing trip from Westport, WA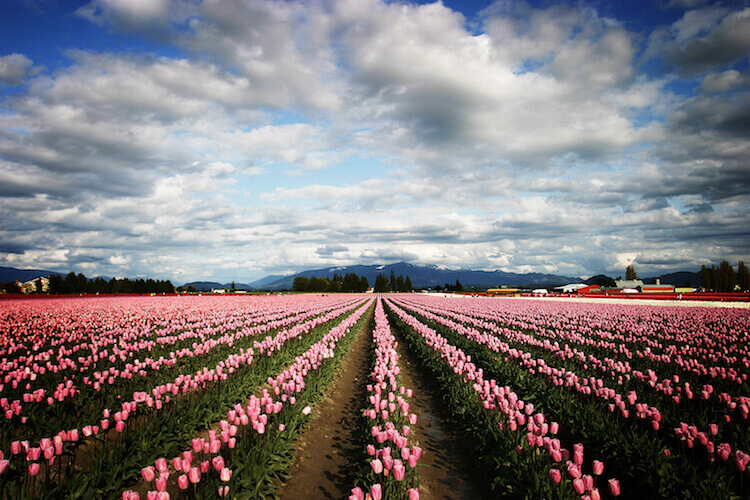 Tour the Skagit Valley Tulip Festival Every April
Seattle Sports Teams
If you're moving to Seattle from a smaller city or town, you'll be able to enjoy big-time sporting events here in-person. The city of Seattle is fortunate enough to feature several professional sports teams including the Seattle Seahawks (football), Seattle Mariners (baseball), Thunderbirds (hockey), Seattle Sounders (soccer) and Seattle Storm (women's basketball). Both Safeco Field baseball diamond and CenturyLink Field football/soccer field are modern, comfortable and some would way beautiful.
If you love collegiate sports, you'll also be able to catch University of Washington Huskies compete in the Pac-12 Conference. The tailgating and enthusiasm for UW football games are just what you'd expect for a college game.
Seattle sports fans are loud. If you like screaming cheering, living in Seattle is a live sports enthusiast's nirvana. For years, Seattle sports fans wore a badge of honor, known as the loudest fans in the world. They've done one better. They've generated enough celebratory kinetic energy to cause a minor earthquake.
Jobs in Seattle
Boeing, founded in Seattle in 1916 (but is no longer headquartered here), could be considered the first "anchor company" in the Northwest. Anchor companies employ large numbers of skilled workers who create smaller companies, or "startups." For decades, employment opportunities in Seattle stayed pretty much the same until the mid-1980s, the dawn of personal computing and the "information age." At that point, Microsoft took the role of the Puget Sound's high-tech anchor company. The knock-on effect has made Seattle a key player in the global technology startup scene, attracting entrepreneurs from all over the world.
The pool for a talented workforce here is deep; 56.6% of Seattleites hold a bachelor's degree or higher. If you're thinking of moving to Seattle to grow your company with skilled, competent workers, Seattle is fertile ground.
Seattle's earliest roots (pun intended) as a logging town are still alive; Weyerhaeuser's headquarters are here, located south of the city. Scanning the top industries in Washington State, you'll see a blend of old and new:
Software
Aerospace
Micro-electronics
Forestry & Wood
Travel & Tourism
Agriculture & Food
Several Fortune 500 companies are headquartered here, some old and some new.
Costco (1983)
Microsoft (1975)
Amazon (1997)
Starbucks (1971)
PACCAR (1905)
Nordstrom (1901)
Weyerhaeuser (1900)
Expedia (1996)
Expeditors International (1979)
Alaska Airlines (1932)
Annual Events in Seattle
Chateau Ste. Michelle Summer Concerts
Zoo Tunes
Seafair & Torchlight Parade
Seattle International Film Festival (SIFF)
Northwest Folklore Festival
Fremont Fair
Seattle Pride Fest
Rock and Roll Marathon
Bite of Seattle
The Lights of Christmas
Taste of Bellevue
Skagit Valley Tulip Festival
Fun Facts About Living in Seattle
While the city is up for debate (between Seattle and Vancouver BC), the origin of the term Skid Row came from Northwest logging roads where logs skidded their way to a sawmill. For the sake of argument, let's say Seattle is home to the first Skid Row (Road).
Built for the 1962 World's Fair, the Monorail is still in use, carrying 2 million passengers a year.
The Washington State Ferry System is the largest in the United States. There are 10 routes, 20 terminals and 23 vessels that carry 10.5 million vehicles and more than 23 million people annually.
Seattle is home to the second gas station in the world, built in 1907.
Dogs outnumber children. According to the 2010 US Census, there were 140,000 dogs and 93,000 children living in Seattle.
The Smith Tower was once the tallest building west of the Mississippi. It is 42 stories high and was built in 1914.
When the Space Needle was built, it was the tallest building west of the Mississippi.
The Governor Albert D. Rosellini Bridge is the world's longest floating bridge.
Seattle has highest percentage of residents with a college degree or higher.
In 1926, Seattle elected the first female mayor of any U.S. city, Bertha Landes.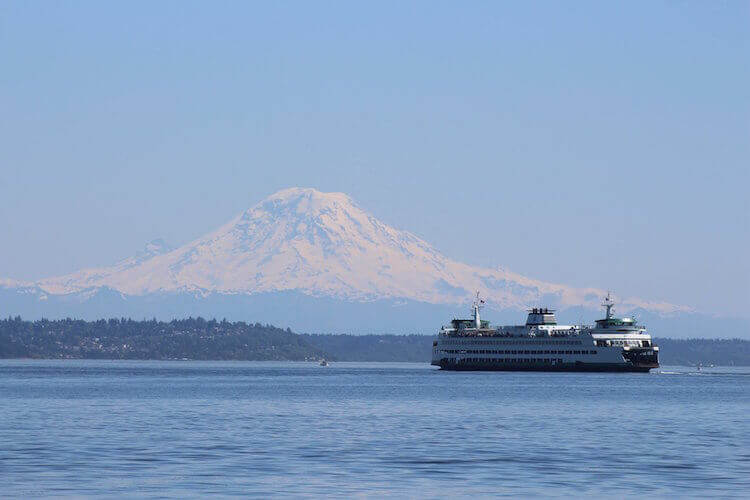 A Washington State Ferry and Mt. Rainier
Final Thoughts: Moving to Seattle
I think the decision and choice of moving to Seattle can best be summarized this way: if you can hack the Northwest weather, living in Seattle could very well be your cup of coffee (or tea, if you must). Seattle can be breathtaking on a clear, sunny day. Outdoor enthusiasts certainly love it. You'll never run out of things to do or places to explore. Seattleites are generally friendly and worldly, if not in a bookish way. In some ways, it's still a quaint fishing village and overcast logging town on the shores of Elliott Bay. In other ways, it's a pioneer of flight (Boeing), computing (Microsoft) and e-commerce (Amazon).