Portland's Eastside vs Westside: Which is Better?
Posted by Tony Mariotti on Wednesday, July 8, 2020 at 3:26 PM
By Tony Mariotti / July 8, 2020
Comment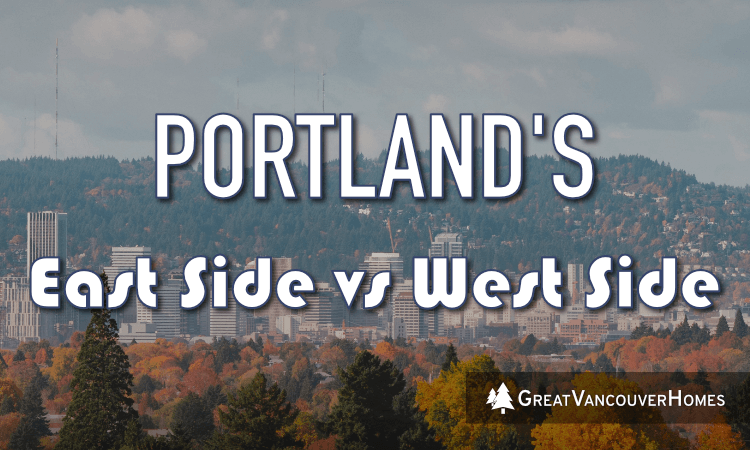 Many Portlanders are dead set on where they want to live. Some fans of the Eastside swear they will never live on the Westside and vice versa. Each of Portland's official neighborhoods can be so different; crossing the Willamette River transports one to seemingly disparate worlds.
But what makes each side of town so distinct?
Simply put, the Eastside offers more entertainment and culture, whereas the Westside provides more space and privacy. In this article, we review the apparent reasons to consider the Eastside or the Westside and aspects of each that home shoppers want to know.
Portland's Eastside
Reasons to Move to the Eastside
Living on the Eastside means being in the middle of the action or very close to it. A significant number of Portland's best restaurants, interesting shops, and trendy business districts sit on the Eastside of the Willamette River.
Eastside neighborhoods are where people meet up on weekends. Living in a trendy urban area offers great experiences, especially if you are a social person. Even the evenings during the workweek can be fun; great hangouts sit just around the corner.
Commuting to Downtown Portland from the Eastside is just a few minutes away by car or light-rail train. In fact, many Portlanders cycle to work from the neighborhood.
Buying a House on the Eastside
Homes in Eastside neighborhoods are generally older, though pockets of new construction homes exist, particularly condominiums.
A fair amount of the housing stock here was built in the 1920s. As such, popular architectural styles from the Arts & Crafts period abound, including Craftsman and Bungalow houses. Cottage, Tudor, and Dutch Colonial-style homes also dot the area. Most houses have a basement, but the majority are unfinished.
Homebuyers are likely to find issues related to the age of the house they wish to purchase. Settled foundations, structural issues, asbestos, lead paint, underground oil tanks, damaged sewer pipes, rusty water pipes, and radon gas are not uncommon issues. While not required by law, a professional inspection is highly encouraged.
Many homeowners have learned to live with a bit of asbestos or lead paint somewhere in the house, but they won't necessarily harm you so long as they remain undisturbed. Radon gas is mitigated with an installed system. There are also many houses without off-street parking options on their properties. Those with driveways are likely to have detached, one-car garages. Homes likely sit on a 5,000 square foot lots, which means the typical back yard is tiny. Nonetheless, older Eastside neighborhood homes are in high demand.
Portland's Westside

Reasons to Move to the Westside
Portland's Westside is a little more expensive and a bit quieter than the Eastside. Aside from the downtown area, most neighborhoods relatively tranquil. Privacy is also easier to obtain. In fact, neighborhoods like Southwest Hills, Hillside, and Northwest Heights are forested.
While the Westside is characteristically less hip than the Eastside, there are a few commercial districts that have cool businesses like Multnomah Village.
Westside to Downtown Portland commutes are relatively easy and don't always require a battle with freeway traffic. If your work is stressful and getting away from it all to a quiet place at night, the Westside could be your answer.
The Westside also has the best school districts in Portland.
Buying a House on the Westside
Westside neighborhoods close to Downtown Portland contain older single-family homes. For newer construction, Modern and Contemporary condos abound in the Pearl District. Homes in the West Hills and beyond are newer and bigger than Eastside homes, especially those built from the 1960s or 1970s onward.
Many houses in West Hills sit on steep slopes with one side of the house attached to engineered stilts. For these homes, backyards are nonexistent. The tradeoff is that these homes have spectacular views of the area's hills, mountains, forests, and Portland's skyline.
There is no consistent architectural theme in Westside neighborhoods; let's call it eclectic. Home shoppers can find Ranch homes from the 1950s and 1960s and the occasional Bungalow or Cottage from the 1920s.
Not to say that homes built in the 1950s and 1960s don't have issues, but homeowners tend to find them more manageable than houses from the 1920s. Keep in mind that homes built before 1978 will likely contain lead paint somewhere.

Eastside vs. Westside Suburbs

Eastside Suburbs
Portland's Eastside suburbs can be simply suburban (like Milwaukie and Happy Valley) or quite rural (like Clackamas, Damascus, and Gresham).
Housing stock closer to Portland, say Milwaukie, includes 1920s Bungalows. Those give way to 1950s Ranch and Mid-Century Modern as one travels east. Home shoppers can find newer houses on the hills of Mount Scott towards Happy Valley and right around Powell Butte in the Pleasant Valley neighborhood of Portland.
The newest homes are in Happy Valley and Clackamas. Housing is more expensive here, and many homes sit within HOA communities. Damascus has been a hotbed for new housing development and remains rural.

Westside Suburbs
Housing options in Portland's suburbs increase as one moves farther away from the city center. If houses within the city limits seem pricey, chances are you will find something within your price range if you are willing to commute for just a little longer.
Westside suburbs worth noting are Beaverton, Hillsboro, and Tigard. Close to Beaverton, there are unincorporated census-designated places (CDPs) like Raleigh Hills and Bethany worth checking out.
With MAX train stops and an increasing number of restaurants and breweries, Beaverton's attractiveness is rising. If buying a newer home is a priority, Westside suburbs are worth your time to consider. If you run into older homes, chances are they are Postwar-era Ranch homes, which are highly sought after by first time home buyers and retirees alike.
On What Side of Portland Should You Live?
The geographically divided generalities about Portland look like this:
Portland's Eastside has older homes in hipper neighborhoods but with less living space.
Portland's Westside has newer homes, in suburban neighborhoods, with more living space.
For further reading about communities that sit within Portland's boundaries, check out our best Portland neighborhood article that is even more detailed in scope.