Best Neighborhoods in Vancouver, Washington [Insider's Guide]
Posted by Tony Mariotti on Tuesday, January 5, 2021 at 1:32 PM
By Tony Mariotti / January 5, 2021
Comment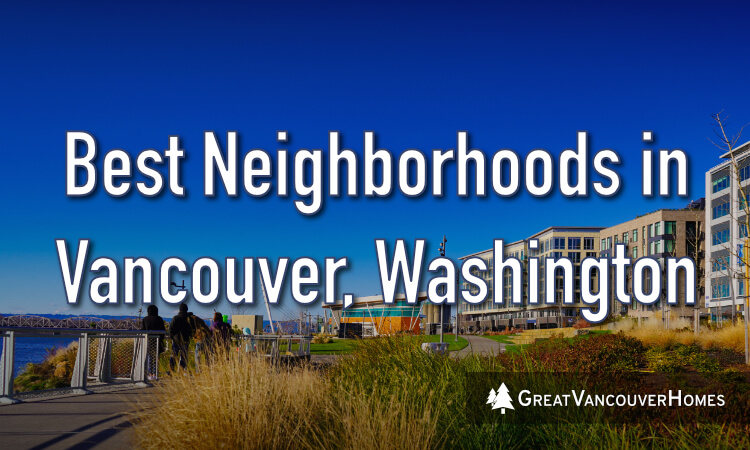 As real estate agents, we get many questions about Vancouver's best neighborhoods and other nearby areas of Clark County, especially from buyers moving to Vancouver from other cities.
Everyday life in Vancouver and its surrounding towns can range widely. That's why home shoppers will find it useful to narrow their choices early in the home buying process (if only to save a little time and aggravation). There's no better way to do that than to compare neighborhoods based on the kind of lifestyle each offers.
What do we mean by that? Here are two ends of the spectrum that can illustrate these choices:
Some folks prefer low-hassle condo living with plenty of nearby amenities like good restaurants, grocery stores, and parks.
Some people prefer to live remotely in a single-family home on a large lot or acreage ("out in the country," as we say).
The good news is that there are homes in Vancouver, in certain neighborhoods, that will satisfy either preference above. To help all our clients focus on a wide range of preferences, we've developed a list of the best Vancouver neighborhoods (and surrounding areas) below. The list is based on the lifestyle preferences we hear about the most. We hope you find a community you love.
Urban / Cosmopolitan
Downtown Vancouver / Esther Short / Lincoln
The residential districts that comprise the Downtown Vancouver area are a great place to start for homebuyers who prefer to be close to many locally-owned businesses, brewpubs, restaurants, and shopping. Esther Short Park sits in the middle of Downtown; many community events, art shows, and concerts are held here. The park is also home to Vancouver's farmers market and the Recycled Arts Festival, which is pretty cool.
Vancouver's waterfront development, part of the Ether Short Neighborhood, has high-end restaurants with Columbia River Views. The mixed-use development is home to high-rise condominiums and apartments. It's a great place to live because there are beautiful views of the river, and residents are near just about anything they need, from shopping and dining to movie theaters.
For folks who like low-fuss living and have little need for an expansive property, or just don't care to maintain a large yard, Downtown Vancouver is an excellent place to look for homes and condos.
Suburban
Salmon Creek / Felida / Lake Shore / Barberton / Mt. Vista / Mill Plain
What if you want to live in a "nice suburb," a neighborhood not too remote and still pretty close to conveniences?
Vancouver neighborhoods like Salmon Creek and Lake Shore (along with all those listed above) are indeed a little farther away from the action. These are lovely communities where the pace is a little more relaxed. Homes are spread out, and lot sizes are bigger. There are more schools and parks in these areas, too. In fact, developers of planned communities and subdivisions often include trails, paths, and green spaces in their master plans.
To be clear, running routine errands, like grocery shopping or picking up laundry from the dry cleaners, will require a little effort. Typically, this involves driving, catching public transportation, or using a rideshare app like Uber.
Established Neighborhoods
Bella Vista / Dubois Park / Evergreen Highlands / Father Blanchet
Vancouver has established neighborhoods that include fairly upscale homes. Here, you will find houses built in the 1930s and 40s, like Tudor or Traditional homes. Ranch and Mid Century Modern homes built in the 1950s and 60s also dot these areas. Architecturally speaking, these communities offer buyers interesting choices.
What's more, properties in established neighborhoods have bigger yards than most new construction homes in Vancouver. Tall, mature shade trees and well-maintained landscaping is the norm. The trees that line the streets are also larger because the city planted them decades ago. Even the streets are wider.
Given these price points of homes here and the overall neighborhood vibe, these neighborhoods generally appeal to buyers who've reached mid-career or beyond.
Small Town Charm
Camas / Washougal / Ridgefield / Battle Ground
Small towns represent another exciting choice in the Vancouver area. Over the past few decades, small cities in Clark County have created an emphasis on attracting and supporting locally-owned boutiques, service-based businesses, restaurants, and brewpubs to form vibrant commercial and civic cores.
One of the things that these small towns offer to home buyers that's desirable is the inventory of older homes with character. Home shoppers will find more varied architectural styles, houses that don't all look the same, as is the case in planned subdivisions where choices are limited to a handful of model homes.
Community events, like concerts and movies in park spaces, are held routinely. Camas has First Fridays downtown, where all the businesses stay open late, some serving wine and dessert. Events like this help build a close-knit community.
Each town has larger annual events that pull in visitors from around the region like Camas Days, Washougal's Frontier Days, Battle Ground Harvest Days, and Ridgefield's Birdfest & Bluegrass.
Generally speaking, small towns are also noteworthy for great school districts.
Rural
Brush Prairie / Fern Prairie / La Center / Hockinson
Some home shoppers want to leave city life in the rearview mirror altogether.
If you prefer a lot of space, perhaps even a horse property, rural areas near Vancouver could be your cup of moonshine.
Rural neighborhoods are quiet, slower-paced, and spread out. Most properties consist of five-acre increments and occasionally two-acre parcels. Many homeowners start little hobby farms, say a garden, a few goats, and some chickens.
There is less light pollution in the country at night, too. You can layout and take in the stars on any cloudless night (which is much more likely in the summer months, given that the skies are often overcast in Southwest Washington).
Waterfront
Columbia River / Old Evergreen Highway / Lacamas Shores / Washougal River
Some people insist on living near water, and Vancouver has neighborhoods perfect for that. Home shoppers will find small lakes and streams around town, but the most noteworthy water body is the Columbia River, which forms the city's southern boundary.
Home prices increase as one approaches the Columbia River. Homeowners above the river enjoy views of the Columbia, lights of Portland suburbs, and Mt. Hood.
The highest-priced homes sit right on the river. The Columbia riverfront area has the highest concentration of multimillion-dollar luxury homes in Vancouver, and for that matter, all of Clark County. The neighborhoods and small and enclaves are often gated, offering privacy and security. Some homes have their own private dock.
That said, there are some great starter condos and townhomes along the river near Columbia Way, a neighborhood also known for its commercial district, which has several restaurants, a public beach, and paths along the shore. Luxury riverfront condos are also available in Tidewater Cove, just east of Columbia Way.
In the Old Evergreen Highway area, the housing stock is entirely single-family homes, mostly with river views from the hillsides and very few homes on the water.
If moving into waterfront areas, federal regulations are in place for preserving the river. Property owners can't clear brush or scrub grass out of the water. The use of pesticides is forbidden. The rules are pretty strict as the intention is to keep the river and riverbanks natural.
Vancouver Lake, a large body of water near Downtown Vancouver, has very few waterfront homes. Generally speaking, the real estate opportunities around the lake are minimal. However, neighborhoods above it, like Lake Shore, have water view homes.
Cascade Range and Columbia River Views
Just like water lovers, some folks prioritize mountain and territorial views over any other aspect of a neighborhood. Two of the best communities for this are Prune Hill and Mt. Norway.
Mt. Norway is in Washougal, a town nicknamed "Gateway to the Columbia River Gorge" as it is the easternmost town in Clark County and sits right at The Gorge entrance. Homes on Mt. Norway face south, taking in panoramic vistas of mountains, the river, the city lights of Portland at night, and other territorial features.
Prune Hill is in Camas and has equally breathtaking views of the river, The Gorge, Mt. Hood, and Portland.
The housing stock on both Prune Hill and Mt. Norway is comprised mostly of custom-built, single-family homes, not cookie-cutter tract homes. Size-wise, view homes in these two neighborhoods are large when compared to the Clark County average. The interiors are adorned with higher-end finishes, too.
If you prefer to build from scratch, just buy a lot and bring your own builder. This way, you're guaranteed to live in a house that is perfectly suited to your tastes and, of course, unique.
A few neighborhoods on these two hills have townhomes. Boulder Ridge, in the Columbia Palisades neighborhood of Camas, is one such pocket of luxury townhomes. Columbia Palisades' configuration is unique in that it is mixed-use, combining retail spaces, single-family homes, and townhomes. All that convenience rolled up into one subdivision, with views of the Columbia River to boot.