Portland, OR Lofts for Sale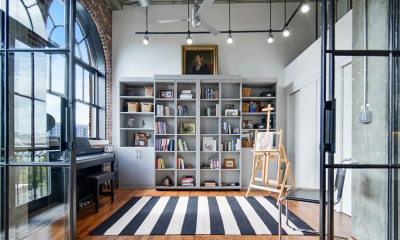 Buying a loft in Portland is a great way to live a metropolitan lifestyle where one can easily take advantage of all the city's amenities. Most lofts are located in Portland districts that have a high concentration of restaurants, bars, cafes, theatres, and boutiques. Portland has a blend of newer loft high-rises and older, converted, former industrial buildings that offer a more authentic loft experience.
You can expand your search by including all Portland condos as well. Be sure to sign up for a free account to receive email alerts whenever new Portland loft listings -- that match your criteria -- come on the market.
Portland Loft Listings
Portland Oregon Loft Market
December 3, 2023
About Portland Lofts
The Pearl District, by far, has the highest concentration of lofts in the Portland area. Shopping, entertainment venues, restaurants, pubs, and nightlife are all close-by. A few buildings also dot the districts adjacent to Pearl; home shoppers can also find lofts in Downtown Portland, Goose Hollow, and Nob Hill districts.
There are smatterings of loft buildings further from the City of Portland's core. At any given time, a few loft listings are on the market in South Waterfront and Lloyd Districts. Hayden Island and Multnomah Village have a few loft-style condo buildings.
Loft Features
Industrial chic - Bonafide lofts are a product of converting commercial buildings or industrial warehouses into residences. That's what gives lofts their signature look:
Concrete or brick walls
Concrete or wood floors
Exposed beams and ducts
Track lighting
Open floor plans - When a commercial building is converted into a residential property, each floor is subdivided into individual loft units; thus, open floor plans exist by default. When the units are formed, they are essentially hollow boxes. Therefore (something often misunderstood by buyers and real estate agents alike) lofts, technically, don't have bedrooms.
Within each unit, the owner gets to decide where the partitions go. Loft owners love the flexibility; it's easy to rearrange the space to create a layout that suits their tastes.
If there is a hard wall in a loft, rather than a partition, then the unit is a loft-style condo, not a loft in the traditional sense. Calling a condominium a loft is increasingly becoming a marketing tactic to attract buyers. In spite of that lack of authenticity, any condo with a loft-like layout and industrial aesthetic is still pretty cool.
High ceilings – lofts are known for their large windows. In older buildings, they are usually single-pane, which are particularly energy inefficient. On the plus side, they let in a lot of natural light, which can be important to a loft's inhabitants in the gloomiest and shortest months of a Pacific Northwest winter.
Portland Loft Listings
When you click a loft listing above, you'll get a comprehensive property description, photos, maps, community information, schools, and similar lofts for sale nearby.
Listing information includes interior features, the size (in square feet) of the loft, tax and financial information, and other essential details such as:
Days on Market (DOM)
HOA fees
Year built
MLS Number
If you're buying a loft, our full-service Realtors are at-the-ready to assist you. For information about a particular unit or to schedule a private tour, contact our Portland area loft expert. If you're selling a loft, our listing agents will provide you with a list of recently sold lofts nearby (comps) and a comprehensive marketing plan to ensure your unit sells quickly and at the best price.